In April 2017, we flew in the Caribbeans (Lesser Antilles), from Martinique to several islands in the areas and back.
It was a beautiful trip.
Photos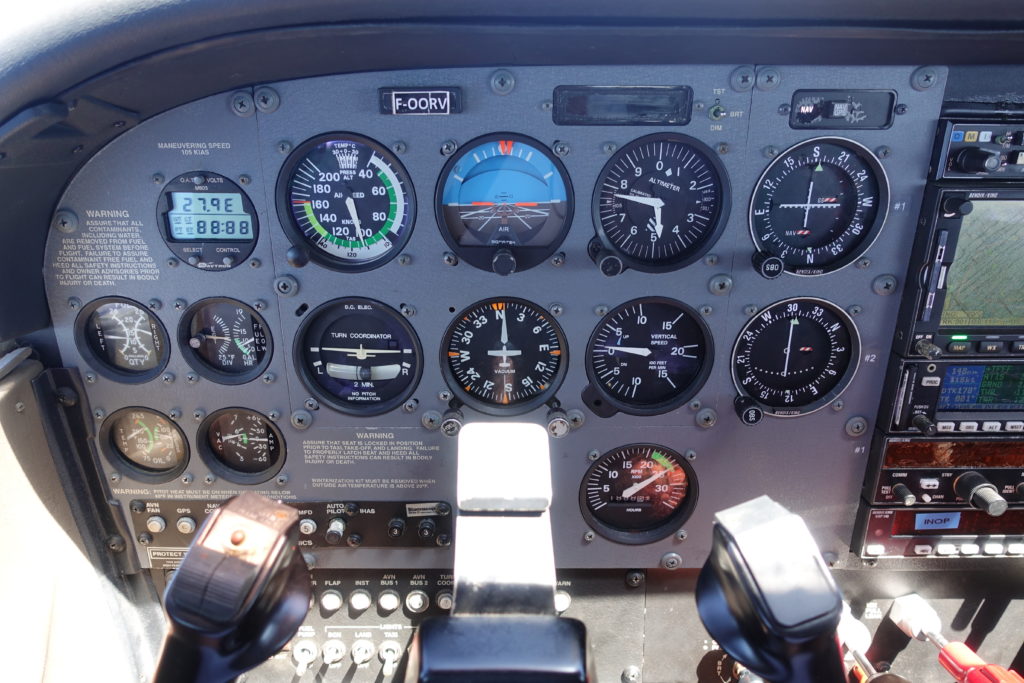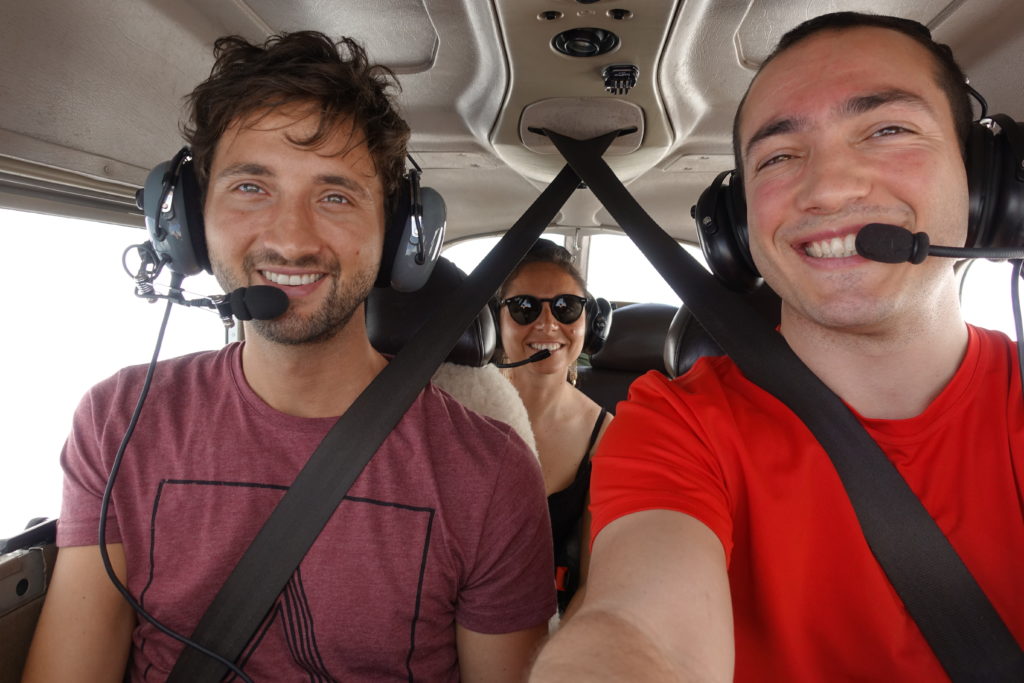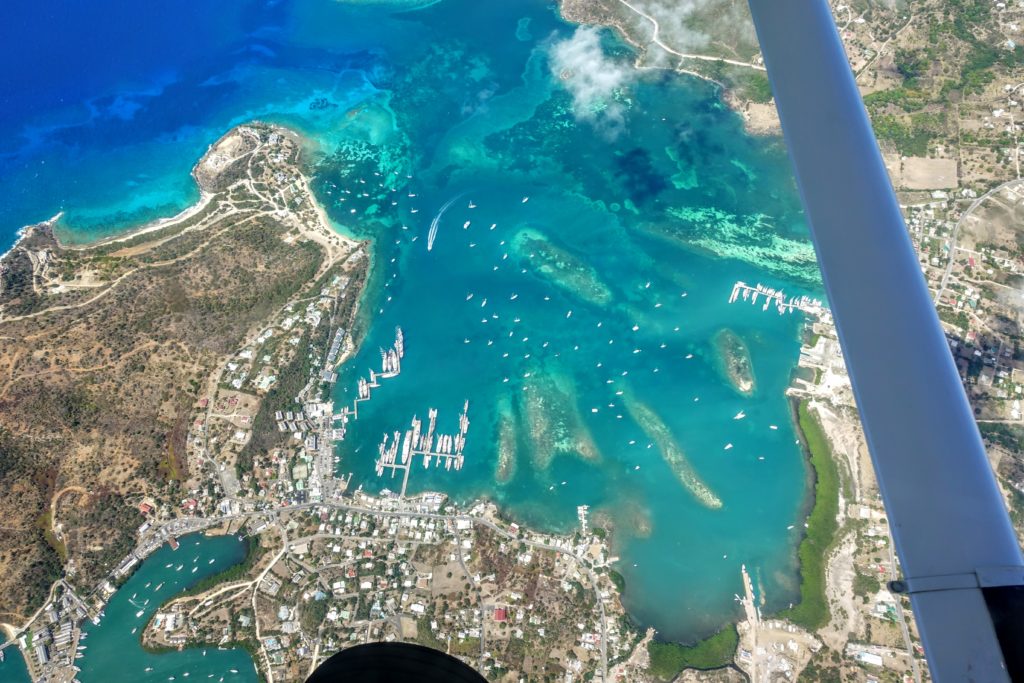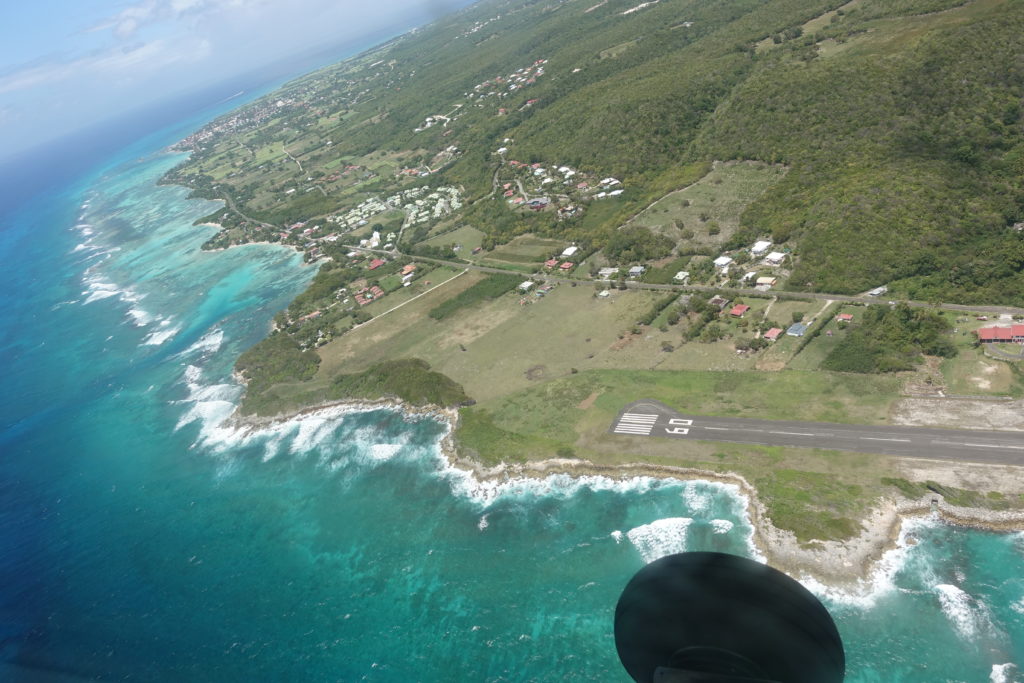 Aircraft
Cessna 172 F-OORV
Cessna 182
Rented at Horizon Caraibes airclub, in Martinique. http://www.horizoncaraibes.fr/
Photo credit: Florian Couff
Those were two very good aircraft.
When trying to fly back from St Martin, we experienced an issue with the electrical wiring of the transponder, which made it unserviceable. That's probably due to the ocean environment in which these aircraft constantly operate, making their electrical system prone to rust. We decided not to continue and the airclub was kind enough to rent another aircraft to us while they took care of our original aircraft.
Itinerary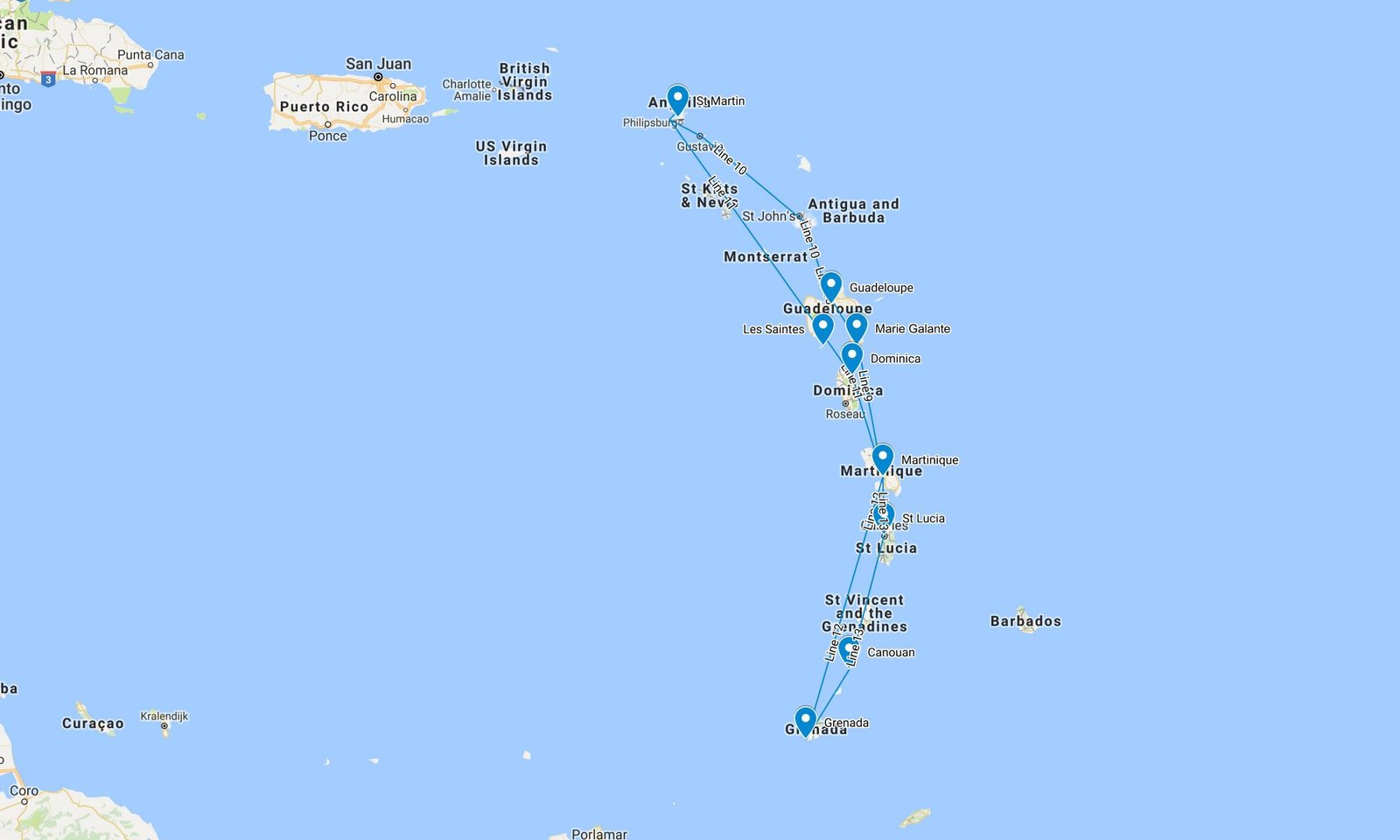 Martinique (1 night)
Marie-Galante (lunch)
Guadeloupe and Les Saintes (3 nights)
Saint Martin / Sint Maarten (2 nights)
Dominica (1 night)
Martinique (1 night)
Grenada (1 night)
Canouan (lunch)
St Lucia (2 nights)
We decided to start in Martinique because this place had a Cessna 172 available for 10 days at the time of our trip. Prices were reasonable and the people seemed serious and friendly.
We planned for our airtrip to go all the way to St Martin because we had friends to visit there, and also because we couldn't miss out on the opportunity to land at Princess Juliana Int'l.
On the way to St Martin, we decided to stop at Marie Galante for lunch, and Guadeloupe for a few days. While in Guadeloupe, we went to Les Saintes by ferry because we also had friends there, and let's be honest, it's very pretty and interesting!
Then straight on to St Martin with an overflight of St Barts on the way. We did a touch and go at Princess Juliana (amazing moment) and landed at Grand Case, the smaller general aviation airport.
After that, we planned on flying back to Martinique via Saba for a few pictures, but the transponder incident meant that we flew to Dominica and then took a ferry back to Martinique.
After visiting a few friends and families that happened to be there at the time (quite a popular destination it seems like), we flew to Grenada at the southern tip. This is just 150 km from Venezuela.
Then, we stopped in Canouan for lunch since this tiny island looked incredible and had an airport. Our final step was St Lucia before we returned to Martinique.
Our strategy was to spend the last day(s) as close as possible to our return base, Martinique. That's because needing to fly only 20 minutes in the last leg reduces risk, when our airline flight back to Europe is on the next day.
Administrative formalities
GENDECs need to be presented at each border, in 3 to 6 copies depending on the case. It is advised to prefill them and have a generous stock on board. You don't want to be stuck at a border filling in those papers.
As always, you need a valid passport for all occupants and carry your pilot license and medical with you to enter/exit the air side.
Landing and parking fees need to be paid prior to departure at all airfields. We haven't noticed any bribery attempt or anything like that, it felt pretty safe and legit.
Navigation
We used a paper chart that proved very useful and adequate for our purposes.
Northern & Eastern Caribbean VFR Chart (purchased as Sporty's)
In addition, we used two different navigation apps: Air Nav Pro (good for VFR) and Garmin Pilot (OK for VFR, and integrated with the Garmin D2 Bravo watch).
This was sufficient to accurately navigate and keep a good situational awareness.
Risks
The risks to general aviation and VFR flight there is mostly the discovery of unknown territories, and the risk of failure over water without many possible areas to land on ground.
Weather was always sufficient, often with low but acceptable visibility depending on the direction of flight/sun orientation. We never experienced bad weather that could have prevented us from flying.
It is worth noting that the twilight period is shorter than in Europe/US latitudes. As a result, VFR day doesn't end 30 minutes after sunset, but only 15 minutes after sunset.
It was sometimes a little bit difficult to understand ATC depending on their local accents. However, this was never a big issue.
Risk mitigation
To mitigate the risk of aircraft failure in flight, we were equipped with life vests, a raft (or dingie) all of which were provided by the airclub. I also carried a Garmin inReach Explorer+ in order to be able to send SOS and communicate with rescue services even out of 3G network.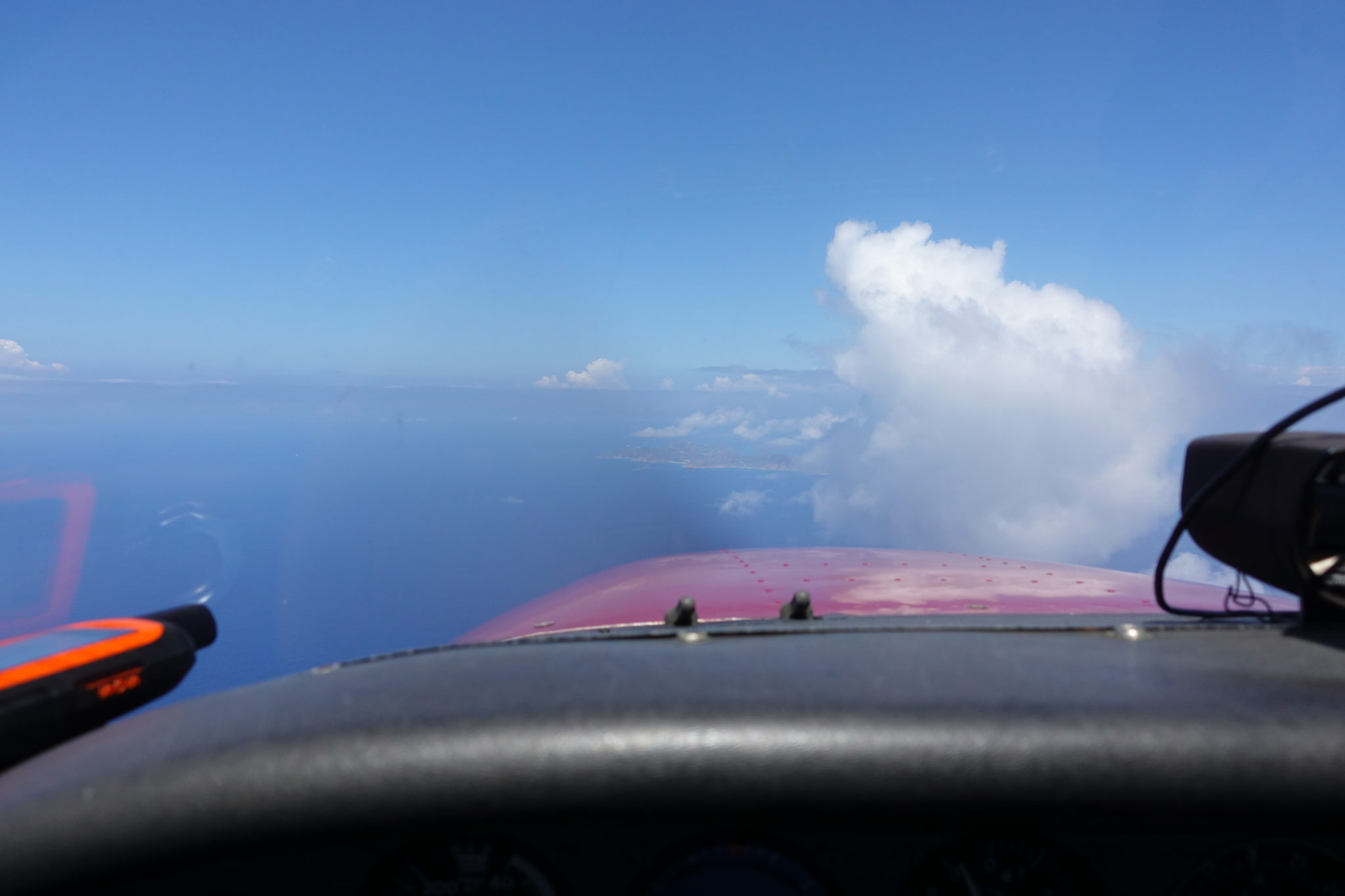 The inReach and its SOS button can be seen on the dashboard.
That's because this device uses the iridium satellite network to communicate. It also enables the emission and reception of SMS and email, and the transmission of location points at regular intervals (e.g. 10 minutes) to track flight progression on a map, to the benefit of family and friends.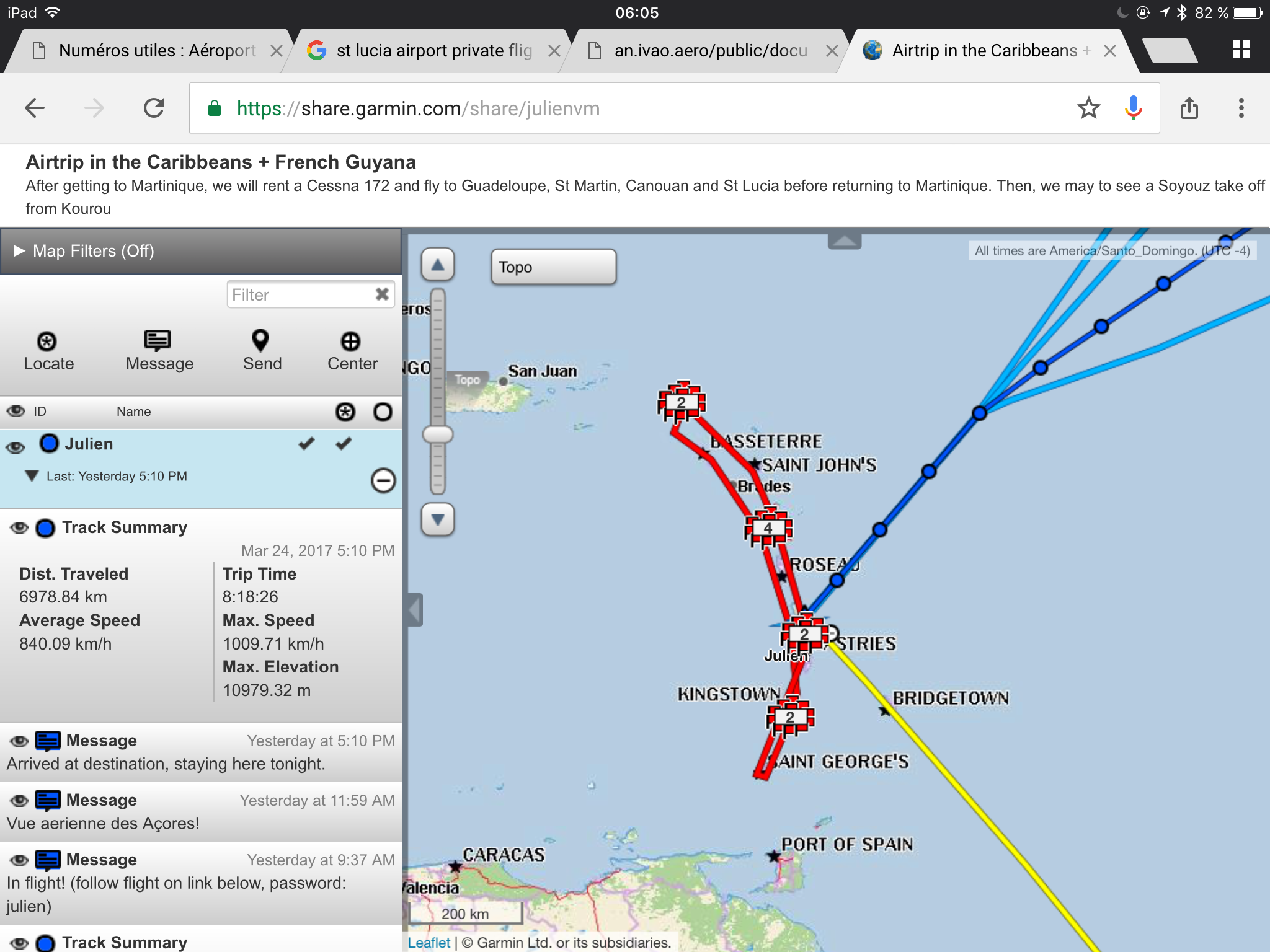 This is the online map I prepared before departure, to show the flight plan to family and friends. Then, the actual track would be plotted on top (as can be seen with the blue line and dots tracking our incoming flight from Europe).
To mitigate weather risk, we planned our last day in St Lucia, which is 20 minutes away from Martinique. This enabled us to take a ferry if weather or aircraft prevented us from flying back.
Costs
Total cost was 8160 € (excluding intercontinental flight to Antilles)

Here is a detailed list of aviation costs
| | |
| --- | --- |
| Item | Cost |
| Airclub subscription | 70 € |
| Aircraft C172 FOORV | 854 € |
| Aircraft C182 | 1,200 € |
| Commercial flight SXM-DOM | 748 € |
| Landing fee Grenada | 130 € |
| Landing fee St Lucia | 85 € |
| Landing fee St Martin Grand Case | 25 € |
| VFR chart Lesser Antilles | 45 € |
| Grand Total | 3,157 € |
Time in C172: 4 hours
Time in C182: 7 hours
Conclusion
I would recommend such trip to anyone interested in trying something new and exciting. We discovered many interesting places and cultures. Island hoping is a great way to make use of a PPL license, and this is one of the best areas that I know to do it.