Planning an airtrip to Morocco and Spain?
Dans ce billet, je partage l'expérience mon voyage en VFR de Paris à Essaouira et Marrakech en Cessna 172 RG en mai 2018. Je partage tout ce que vous devez savoir sur la planification des itinéraires VFR, les procédures aéroportuaires, le matériel recommandé et les meilleures pratiques. selon les règles de l'aviation générale privée VFR en Espagne et au Maroc.
Ce fut l'un de mes vols d'avion les plus « aventuriers » jusqu'à présent. Des vols longue distance, un risque météorologique accru, un territoire inconnu, des contrôleurs d'une autre culture… Cela s'est avéré plus difficile que d'habitude, mais c'était tout à fait gérable. Une préparation rigoureuse et une bonne dose de flexibilité sont les deux facteurs qui ont fait de ce voyage un succès.
Context
Context
Tout a commencé quand une de mes amis, qui comme moi est une aventurière aguerrie mais pas une pilote, a prévu de venir en Europe pour un break de trois mois et a proposé de profiter de cette opportunité pour finalement faire un voyage en avion. On voulait que ce soit un voyage hors de l'ordinaire avec des destinations éloignées et du défi!
Il nous a fallu quelques mois pour se décider sur les destinations, et nous avons longtemps hésité entre Croatie / Grèce / Italie et Maroc / Canaries. Nous avons finalement décidé d'aller à Marrakech et à Essaouira au Maroc. Nous avons abandonné l'idée des îles Canaries en raison de contraintes budgétaires et de temps. Le départ serait de Paris en raison de la disponibilité des avions à mon aéroclub. Deux autres amis ont complété notre équipe, de 4 personnes au total. J'étais le seul pilote. J'ai une license PPL et je ne peux voler que de jour et en VFR (vol à vue).
Impressions générales
Impressions générales
Quel superbe voyage ! La valeur touristique est évidemment importante, mais aller à ces endroits en pilotant soi-même fournit un grand sentiment de liberté et d'aventure. Comme je n'avais pas volé dans ces pays auparavant, aller dans l'inconnu me semble plus «risqué» et, par conséquent, procure une grande satisfaction lorsque la mission est accomplie.
La seule chose qui manque en comparaison à certains de mes précédents voyages est la simplicité. Voler en VFR dans la majeure partie de l'Europe est aisé car il y a beaucoup de petits aérodromes d'aviation générale qui ne nécessitent pas d'autorisation, de PPR, de contrôle de sécurité, d'immigration, de police, etc … Cette fois-ci c'était uniquement des gros aéroports et du temps perdu en procédures de sécurité et de police.
De plus, nous n'avons pas fait d'îles cette fois-ci, bien que ce soit une façon géniale de profiter du VFR. Mais nous avons survolé Gibraltar et survolé l'eau, ce qui est agréable et similaire au vol de l'île.
En conclusion, il s'agissait d'un voyage aérien différent et relativement plus sérieux, flirtant avec l'expérience de l'aviation commerciale (agents de handling, follow-me cars): une expérience inestimable et enrichissante.
Planification
Planification
Notre stratégie de conception de planification consistait à aller le plus loin possible le plus rapidement possible, puis à construire des jours tampons sur le chemin du retour. Cela nous donnerait plus de temps pour adapter la planification des derniers jours si la météo ne jouait pas au ballon. Il y a eu un arrêt difficile le 14e jour où tout le monde s'envole pour son pays respectif.
Plan:
Jour 1: Paris – Biarritz – Madrid
Jour 2: Madrid – Tanger – Essaouira
Jour 4: Essaouira – Marrakech
Jour 9: Marrakech – Tétouan – Grenade
Jour 11: Grenade – Saragosse – Toulouse
Jour 13: Toulouse – Paris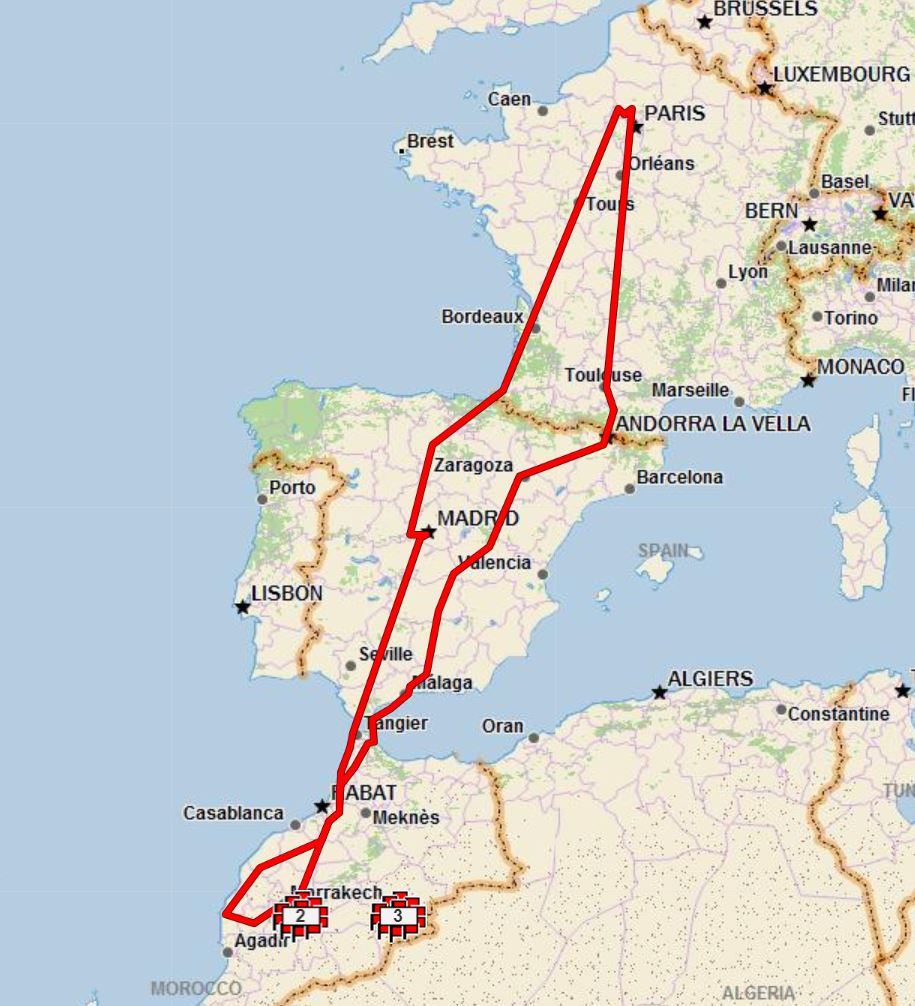 Itinéraire réel
Itinéraire réel
En réalité, le chemin vers Marrakech était pour l'essentiel comme prévu (première étape déviée en raison des conditions météorologiques). Sur le chemin du retour, nous avons fini par modifier nos plans d'adaptation aux conditions météorologiques et consommé une journée de réserve.
Réel:
Jour 1: Paris – Perpignan (la route au sud de Biarritz était très nuageuse donc évitée) – Madrid
Jour 2: Madrid – Tanger – Essaouira
Jour 4: Essaouira – Marrakech
Jour 9: Marrakech – Rabat (la météo à Rabat était mauvaise et il n'y avait pas de temps pour arriver à Grenade avant le coucher du soleil)
Jour 10: Rabat – Grenade
Jour 11: Grenade – Sabadell / Barcelone (cet aéroport était initialement prévu comme alternative et a facilité le changement)
Jour 12: Sabadell – Toulouse
Jour 13: Toulouse – Paris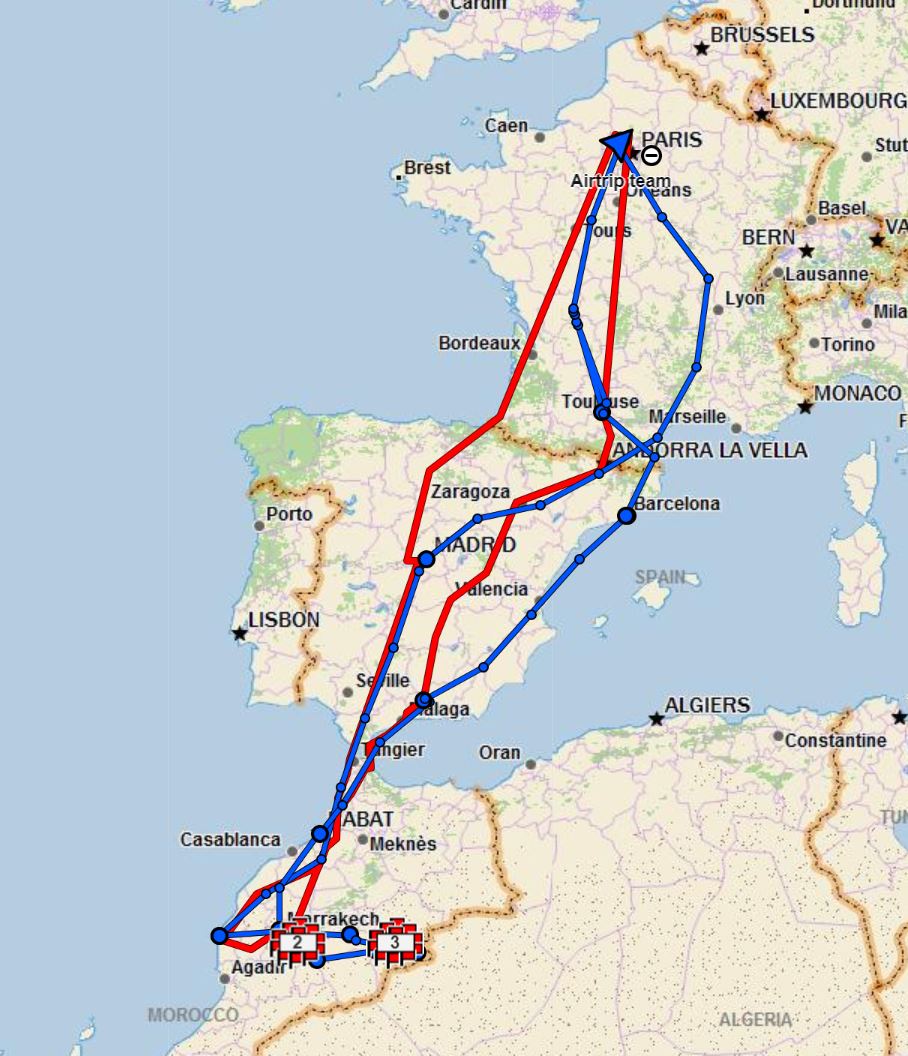 Route avec codes OACI.
Pontoise LFPT – Perpignan LFMP – Madrid LECU – Tanger GMTT – Essaouira GMMI – Marrakech GMMX – Rabat GMME – Granada LEGR – Sabadell LELL – Toulouse LFCL – Pontoise LFPT.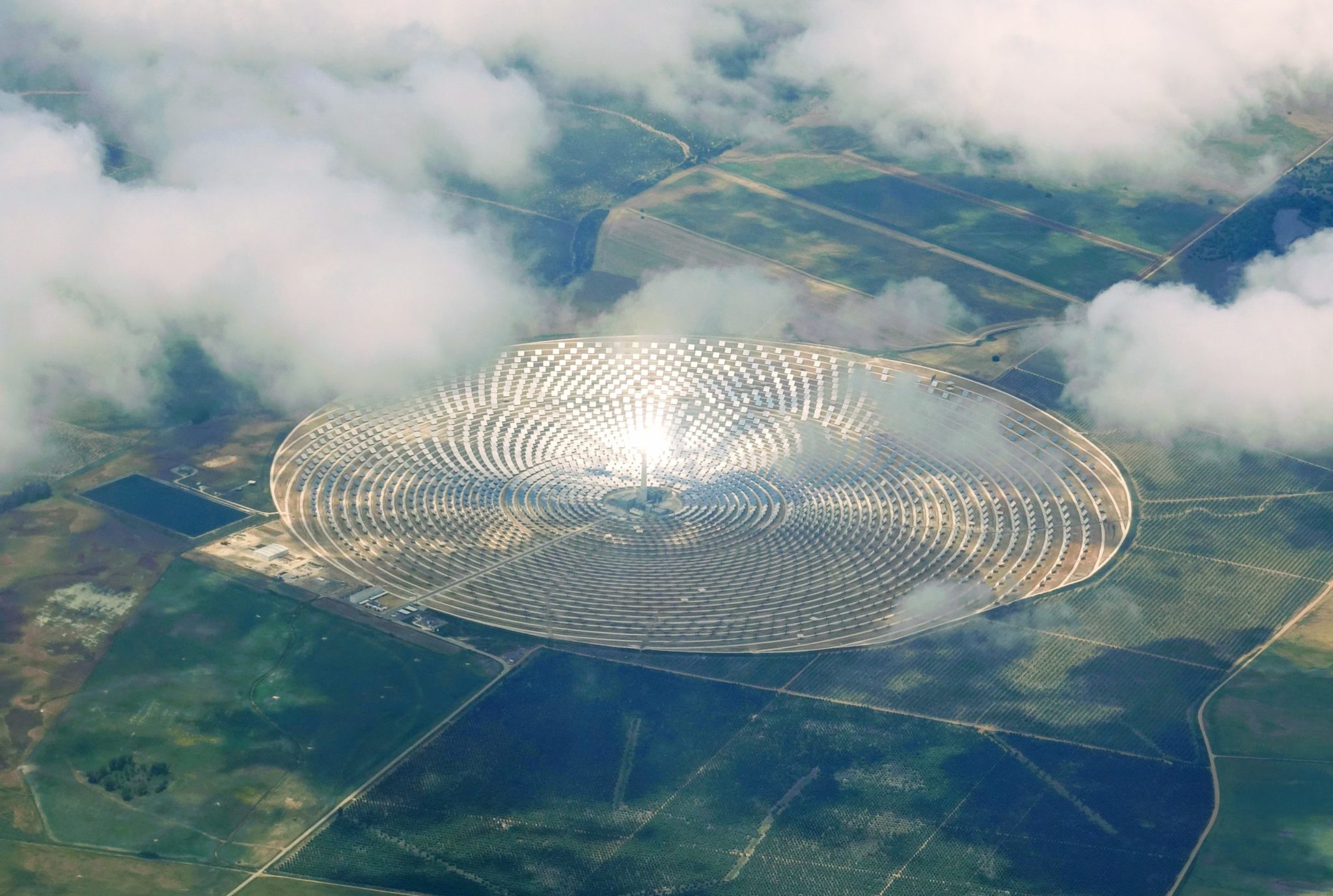 Avion
Avion
Le Cessna 172 RG a été sélectionné parmi d'autres Cessnas car il semble être l'avion le plus efficace et le plus rentable pour les voyages, grâce à sa capacité à voler 3,5 heures + 1 heure de réserve avec passagers et 10 kg de bagages chacun. En outre, il est considéré comme un «avion complexe» en raison de l'inclinaison variable et du train d'atterrissage rétractable, ce qui donne un peu plus d'expérience.
Equipement
Equipement
Voici la liste du matériel que j'ai préparé pour le voyage. Je recommande d'avoir ces articles prêts si vous voyagez en Espagne ou au Maroc.
Appli de navigation
SkyDemon. Cette application en particulier m'a été recommandée par Adil, un instructeur du Marrakech Royal Flying Club. Le principal avantage pour le Maroc est qu'il dispose déjà des points de signalement VFR obligatoires. J'ai utilisé cette application à la fois sur un téléphone (tenu par une ventouse sur le pare-brise donc toujours à portée visuelle) et sur une tablette (attachée à ma jambe donc visible uniquement si je regarde en bas).
Le téléphone avait toujours la carte locale, tandis que j'alternais la tablette entre la carte régionale et le journal de navigation. Cette application présente de nombreux avantages qui la séparent clairement d'Air Nav Pro et de Garmin Pilot, que j'ai utilisés dans le passé. Le coût pour 1 mois est d'environ 15 euros. Le dossier de dépôt de plan de vol est d'environ 20 euros pour 20 plans de vol.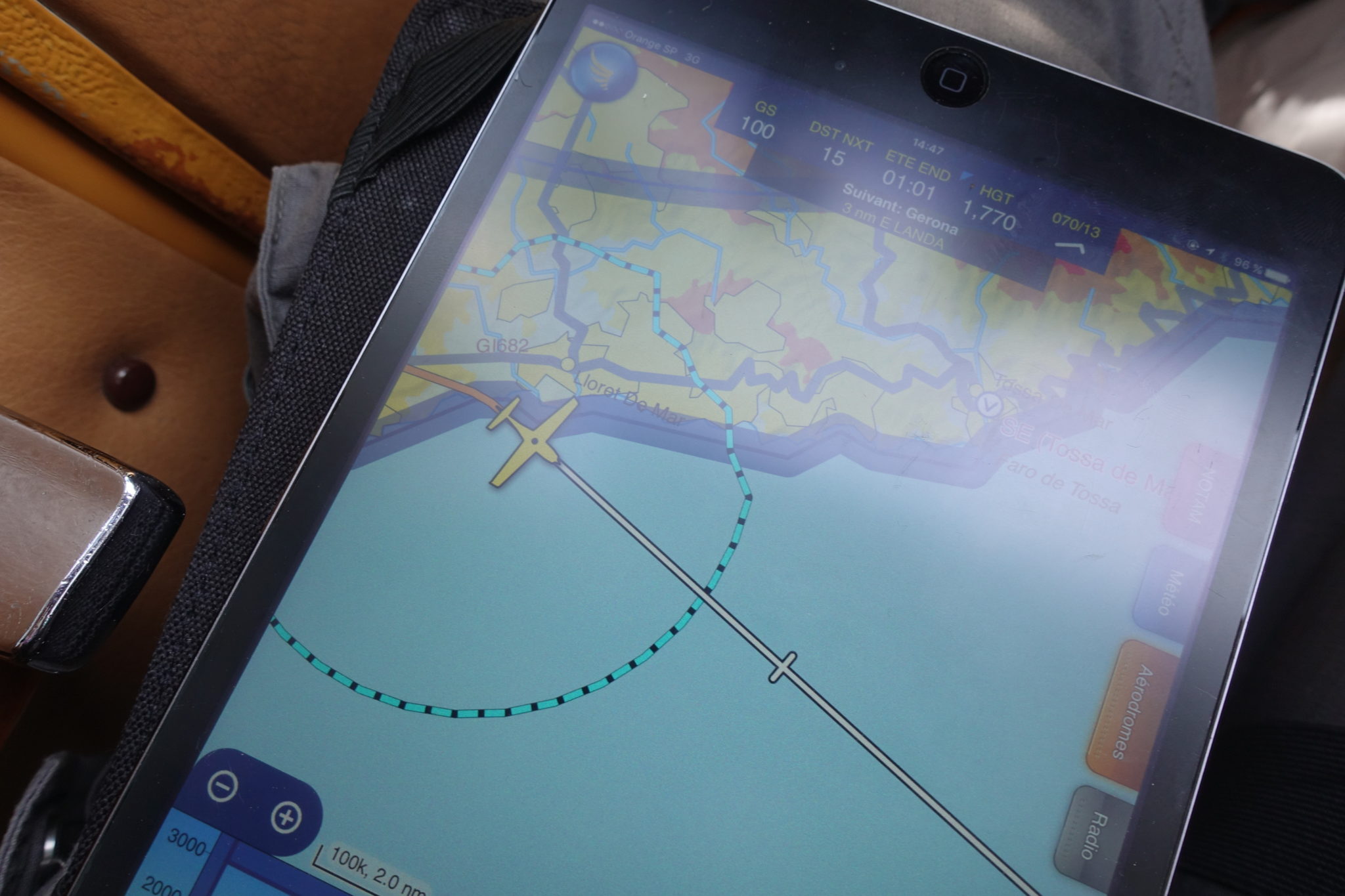 Applis pour tablette / téléphone
Utilisez 2 appareils. J'utilise l'iPad mini v3 et un Samsung S7 sous Android. L'iPad a tendance à surchauffer lorsqu'il est directement exposé au soleil. L'iPad cesse ainsi complètement de fonctionner pendant une période d'au moins une douzaine de minutes. Le Samsung n'a pas surchauffé. Cependant, il a un bug une fois en quittant l'application de manière inattendue 2 fois de suite. Sinon, super fiable.
Il est utile d'avoir la même application (ou des applications différentes) fonctionnant sur 2 appareils différents, à la fois à des fins de redondance (en cas de panne d'un appareil / application) et d'utiliser un seul appareil pour vérifier les choses (journal de navigation, plaques, espaces aériens, fréquences , zoom différent, etc…) tout en gardant l'autre appareil pour une navigation pure).
Carte de navigation Maroc
Carte Maroc VFR 500k. Celui-ci est disponible sur le site Internet SIA Maroc (http://siamaroc.onda.ma/cartes_vfr.htm). Il y a 5 cartes, chacune couvrant une section du pays.
Ces cartes ont un vieux fond avec le terrain, les villes, les rivières, etc. Et une couche récemment ajoutée de données aéronautiques comme les aéroports, les VOR, les NDB et les waypoints VFR. Ce n'est pas très précis pour la navigation VFR pure telle que nous la connaissons (calcul à l'estime, correspond aux caractéristiques du sol à la carte), mais fait le travail d'affichage des points VFR, ce qui est le plus important. Vous devrez suivre les itinéraires publiés sur ces cartes. J'ai essayé d'obtenir un direct près de Rabat en raison du mauvais temps et cela a été rejeté, probablement en raison du risque de survol des résidences royales.
Carte routière du Maroc. J'en avais un et c'est probablement utile pour mieux voir où vous volez. En fait, je ne l'ai pas beaucoup utilisé. Le Maroc VFR 500k + SkyDemon était suffisant. Il est utile comme sauvegarde si vous souhaitez plus de détails ou si vous perdez la capacité de votre application.
Carte de navigation Espagne
Espagne AirMillion 500k. Ceci est une bonne carte pour un vol à long terme (vous avez besoin de quelque chose de plus zoomé pour les approches locales, mais SkyDemon était suffisant). Cependant, apportez du ruban adhésif car le plier plusieurs fois était suffisant pour le séparer au niveau des lignes de pliage.
Autre navigation
Cartes d'approche d'aéroport / documentation. Je recommande de télécharger l'intégralité de l'AIP du pays (ou au moins des aéroports sélectionnés), y compris ces plaques, et de les imprimer également à l'avance pour les aéroports de destination et de déroutement.
Documents de formalité
Préremplir les GENDEC. Ils sont requis à la douane lors de l'entrée / sortie des pays pour les vols internationaux.
Préremplir le document de police «Fiche de police» pour le Maroc. Requis dans de nombreux aéroports (Tanger pour les arrivées internationales, Marrakech je pense, Rabat pour les arrivées nationales et les départs internationaux).
Sécurité
Gilets réfléchissants jaunes, à porter au moins par le pilote dans les aéroports où vous n'avez pas de manutention. (L'agent de manutention vous conduit donc pas de problème de sécurité). Essaouira n'avait qu'un seul avion: le nôtre. Donc pas de risque pour la sécurité non plus.
Lifevest, voir la section ci-dessous
Communicateur satellite, voir la section ci-dessous
GPS supplémentaire, voir la section ci-dessous
Preparation and information sharing
Preparation and information sharing among crew
I created a Google Sheet to share information with the rest of the « crew » (non-pilot friends in my case). The Google Sheet would have the following tabs:
Technical Planning. Includes dates, departure and arrival airports, distance, flight time (best, expected, worst-case), fuel requirements (worst-case + safety), runway length and TKOF distance requirement based on temperature and pressure altitude, etc…
PPR. Includes a column per airport with data to be communicated to airport stakholders (handlers, airport official, etc..) with aircraft registration, owner, arriving from, departing to, arrival/departure dates and hours, pilot and passenger names and passport numbers, fuel requirements, etc… I would copy-paste the relevant column into emails that went to airports/handling companies/fuel companies.
Weight and balance. Includes classical weight and balance calculation under 3 person and 4 person scenario (had both cases). With balance graph.
Tourist Planning. Includes logistic details for each destination, such as hotels and others.
Tourist activities. Includes possible activities to do at destination.
I took care of all flying-related information and my passengers took care of the touristic/ground transport information.
Any change to this online document by any crew member is immediately apparent for all others, making communication and tracking very easy.
Airport information
Airport information
As trip preparation progressed and locations went from idea to certainty, I started to contact the airports for the following data:
Do I need a PPR for landing and parking? Or is a flight plan enough?
Is there fuel and what is the approx price? What are the accepted payment methods? Opening times?
Is handling required? If so, get quotes from handling agents and select one.
Some information is already in the AIP, but contacting a local person feels safer.
Morocco
In Morocco, for VFR general aviation flights, no PPR is required.
Even Marrakech, for which AIP states that the airport commander needs to sign an authorization, does not require any authorization. (this is not true for IFR/commercial). Instead, just contract a handling agent. They will take care of everything and I think it's really necessary for Marrakech.
Tanger (GMTT): no PPR, Avgas OK, flight plan needed, no handling needed. (A policeman will show up at the aircraft just after you park and take you to customs).
Essaouira (GMMI): no PPR, Avgas OK, flight plan needed, no handling needed. Very happy to see people as usually there as very few flights per day. You can go to the control tower and say hi – the control was happy to see us.
Marrakech (GMMX): no PPR, Avgas OK, flight plan needed, handling needed. I used Swissport and it was fantastic handling. Everything was great and flexible. Fully recommend.
Rabat (GMMI): no PPR (but the agent at departure airport Marrakech called Rabat to check if there was any royal activity – it was fine for today, otherwise pick another airport), Avgas OK, flight plan needed, handling preferred but we did without. A security agent was affected to us to go through customs and border control, but it was out of ordinary for them that we didn't have a handling agent. The military will want to brief you on departure route for VFR. They will just tell you what is on the map, but it has to be done. I didn't have time to do it on the first attempt to depart and this was a good enough reason to reject flight authorization upon first contact with tower to request taxi.
Spain
In Spain, for VFR general aviation flights, just flight plan filing is needed 1 hour before take-off (could be less). Handling only required if exiting Schengen or entering from outside Schengen.
Madrid Cuatro Vientos (LECU): No PPR, Avgas OK, flight plan needed, handling not required/not available. For Schengen entry/exit, just file your flight plan more than 24 hours in advance and give a phone call to the airport to check customs/border control will be available at this time. Very important: the only fuel company will not serve Avgas unless you give them an intracommunity VAT number. If you operate a private flight, you don't have a company or a VAT number. Pick any other company (from relatives, or your airclub or rental company) and give them this number. It took me 30 minutes to figure it out.
Granada (LEGR): No PPR, Avgas OK, flight plan needed, handling not required. We took handling because we entered Schengen from Morocco. We took Andalucia Aviation Services and it was great.
Zaragossa (LEZG): PPR required (but no problem), Avgas OK, flight plan needed, handling required. Did not land there after all.
Sabadell (LELL): PPR not required, Avgas OK, flight plan needed, handling not required/not available. To get to Barcelona, take a cab to the Sabadell Sud train station (<8 euros). There, take a 25-min train to city center (<5 euros).
France
In France, VFR is easier, no flight plan needed (unless international flight or overwater or night flight). Just state your destination to tower on first contact.
VFR Navigation
VFR Navigation
It is required by Moroccan authorities to follow published VFR routes. These routes are available in the VFR 500k map published on Morocco's SIA website.
I think it is challenging to do VFR in Morocco with less than perfect weather because you will have to fly on top of the clouds and will not have access to ground features. You can also fly below clouds, but flying 3 hours with turbulence is not the most comfortable way to travel. I ended up flying above the clouds most of the time. The risk is that by following the VFR routes, Morocco's authorities impose you to not deviate too much and don't give you a lot of options to stay clear of weather.
At some point, flying from Marrakech to Rabat, there was some difficult weather that I would qualify as marginal VFR. I would have preferred to deviate from the route significantly to avoid bad weather, but ATC said there was no way to deviate, either land at the nearer airfield in Casablanca or follow the assigned route. I think the problem is that they don't have a radar in most areas, that's why they ask for estimates of the next 3-5 reporting points and destination just after take-off, and ask you to report at next point all the time. This can make for tricky flying if weather isn't perfect on the whole route.
Weather
Weather
I used 
windy.com
. This website is really good as it presents a clear view of the weather for the next hours and days, for many cloud features (high, mid, low, cloud base, cloud top, etc…) and also METAR, TAF and meteorological graph. That was super helpful. One problem is that 4 different weather models are presented (you can switch model at any given time), and results can vary significantly from no clouds to very clouded. Which model to believe? What will be the actual cloud base? Can I fly or not? That was our struggle!
Looking at METAR and TAF is not enough as airports are sparsely distributed and don't give a full view on weather along the way.
In the end, our strategy was to look 24 hours before to decide on departure time for next day. On the morning of the flight, look again to check how predictions changes and see if flyable.
Flight plan
Flight plan
Use 
eurofpl.eu
. Flight plan addressing in Europe (France and Spain) was successfully done by the app. It failed a couple times in Morocco, because the route I selected was rejected. Using SkyDemon, I did not find a way to read messages from the aviation authorities regarding my flight plan. As a result, I would recommend to use instead 
eurofpl.eu
. This is more cumbersome as you have to use a separate website, but at least you know if a flight plan is rejected. I believe 
eurofpl.eu
 is able to link to SkyDemon or other apps to avoid the trouble of inputting data two times, but I didn't find time to check.
I felt that calling the departure tower after submitting a flight plan was the best thing to do in absence of a feedback. A few times, my flight plan was rejected, I didn't know about it until I showed up at the airport and asked someone at the C office (or even once after startup). I figured that it was simply best to file a paper flight plan locally just before takeoff (30 minutes before was OK even though 1 hour is usually required).
For an international flight from another country into Morocco, they ask to submit a flight plan 24-hours before. I initially filed on Olivia, the French official flight plan website, a few days in advance. It was immediately rejected. I then called the French flight plan service at +33 1 56 301 301. The person told me it's not possible to submit a VFR FPLN more than 24 hours in advance. So how to do it 24 hours in advance to respect Morocco's requirement? You can submit with euroflp or your favorite app. Then call the departure tower to check that it's accepted. If you have to delay the flight plan or cancel, you can use DLY or CHG features on eurofpl. But if you do need to cancel and file a new flight plan later for any reason, the Moroccan authorities were informed of your arrival with the initial flight plan, so there shouldn't be any problem if you final flight plan has been submitted less than 24 hours prior.
Water overfly
Water overfly
I purchased a Plastimo Pilot 165 lifejacket with manual trigger only (not automatic to avoid inflation while in the plane when you open the windows to equalize pressure and allow door opening) and crutch strap. I added the W3 Compact flashlight that you can stick on the buccal inflator. This way, the lifevest meets regulations. Total cost 80 euros. You wear it the whole flight if over water is planned. As a pilot, you won't have time to think about wearing the lifevest and if anything were to happen, it's a major safety improvement to already be wearing it.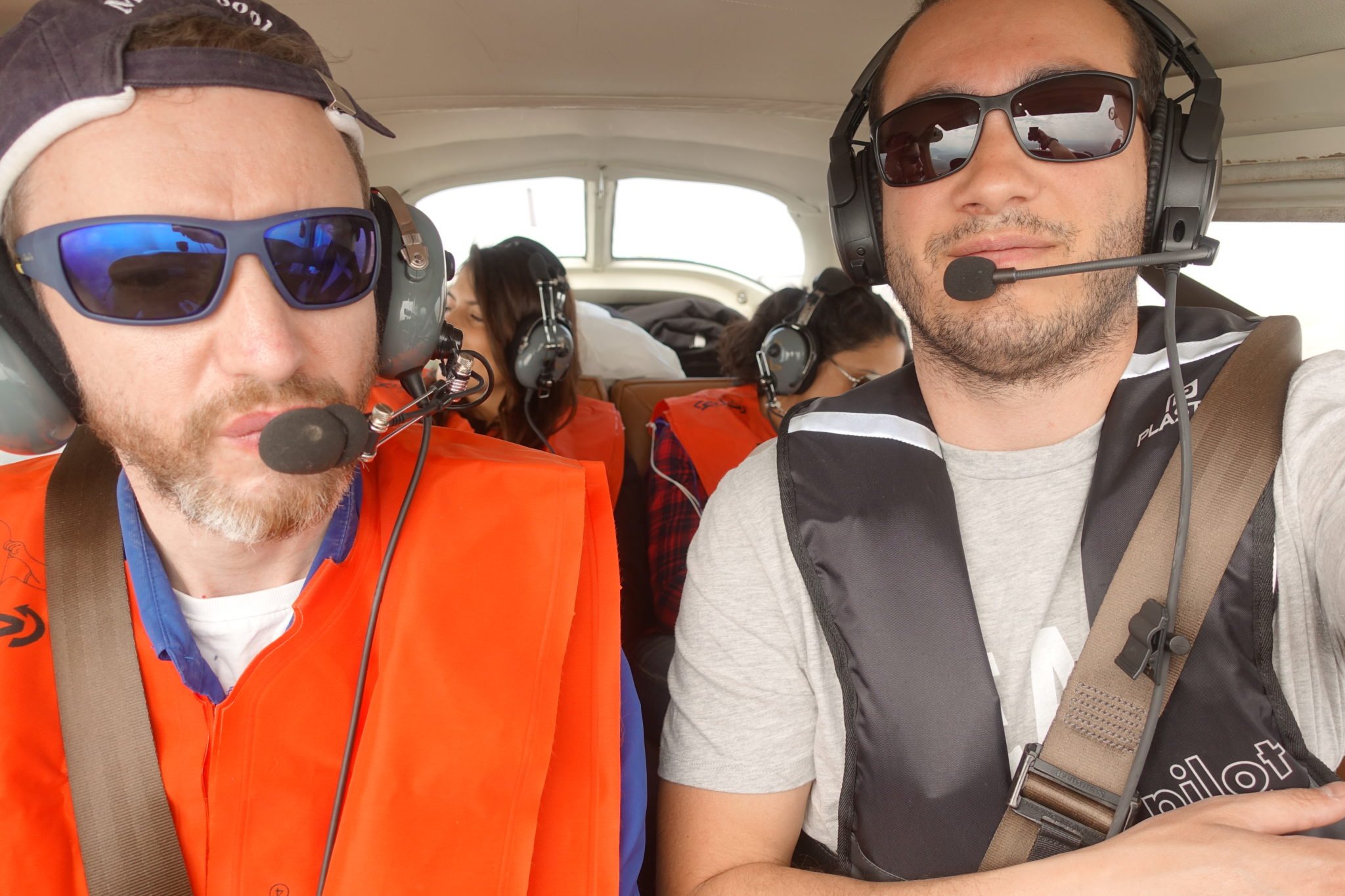 My passengers were wearing standard airline-style lifevests. First water overflight, I asked them to wear them shortly before arriving over water. It actually took them at least 10 minutes to open them and figure out how to put them on. Let me tell you that not wearing lifevests before over water flight is a big risk if something happens. Surely, with the stress, no passenger will be able to correctly wear the lifevests by the time you have to ditch.
On following flight, I did a proper briefing on how to wear the lifevest, how the whistle, light and buccal inflation work. And we'd wear them before take-off for every overwater flight.
The advantage of the Plastimo (or any other brand) lifevest is that it does not itch the neck over time. Also, using it doesn't require reconditioning (necessary for airline-style, at 25 euros each). The Plastimo cost only 80 euros when equipped with manuel, croutch strap and light, which was the cheapest lifejacket I could find.
Headset
Headset
I recently purchased the Bose headset with bluetooth (fortunately the price internationally is lower than in Europe) to replace my old entry-level headset I got during my initial training years ago. I must say it is an absolute advantage to have it. Noise cancellation is effective. It's not pure silence though, you can definitely hear some background noise as well as the engine running, but everything is much quieter than with ANR inactive, so communications and music stand out.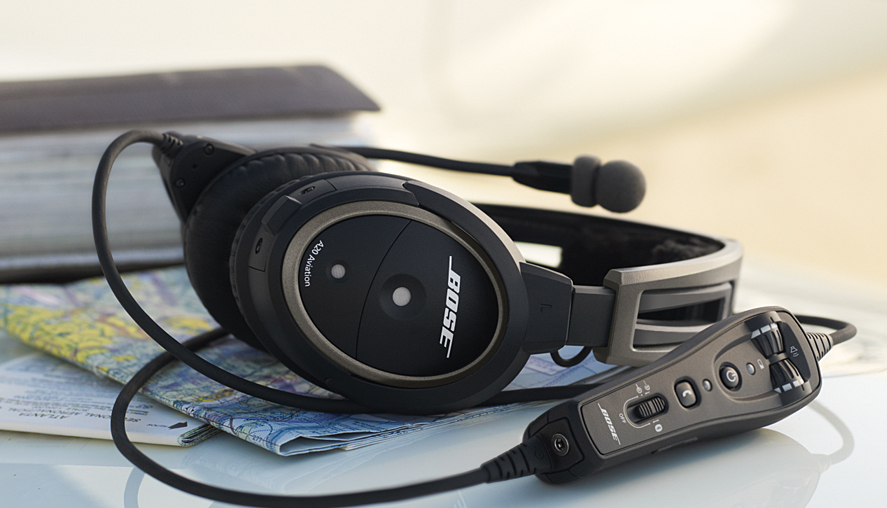 2 main advantages above and beyond ANR:
First, you can now listen to music in flight. This makes the experience incredibly more enjoyable.
Second, you can make phone calls. This happened when talking to ground operations in Perpignan regarding the landing fee. I asked to call on phone rather than use battery for radio, and didn't have to do anything to continue talking to them beside punching the numbers on my phone. In another instance, the handling agent from Granada called me 20 minutes before landing in Rabat. I quickly picked up and said that I was in flight and was still planning on arriving to Granada but got delayed. This can be a lifesaver in case of communication failure. For instance, Sabadell (Barcelona) airport lets you enter its airspace and land in case of radio communication by using a specific route to the airport and looking at tower lights. Also, they give a phone number to use specifically for this purpose. Having the capability to make a phone call to the tower with the headset is a safety feature.
I experienced an issue with the Bose headset. At some point during the flight, I started to hear weird noises when I was transmitting on COM 1. I finally figured out that if speaker is on and ANR is on, a weird noise will appear in the ANR headset (only on COM 1 – this didn't' happen on COM 2).
Original battery lasted 28 hours, not 40 as advertised. I have to check with a legit battery (Duracell/Energizer).
Satellite communicator
Satellite communicator
I use the Garmin inReach satellite communicator to track the flight, send the track by satellite to an online map (for friends/family to follow), have a 2-way text messaging capability with the ground (friends/family/logistics) and a SOS feature. It can even post text messages on facebook or twitter!
This works anywhere on earth. The cost is 15 euros per month for 10 messages. 30 euros per month for 40 messages and 10-minute tracking. This fee is monthly for 12 months. SOS always included.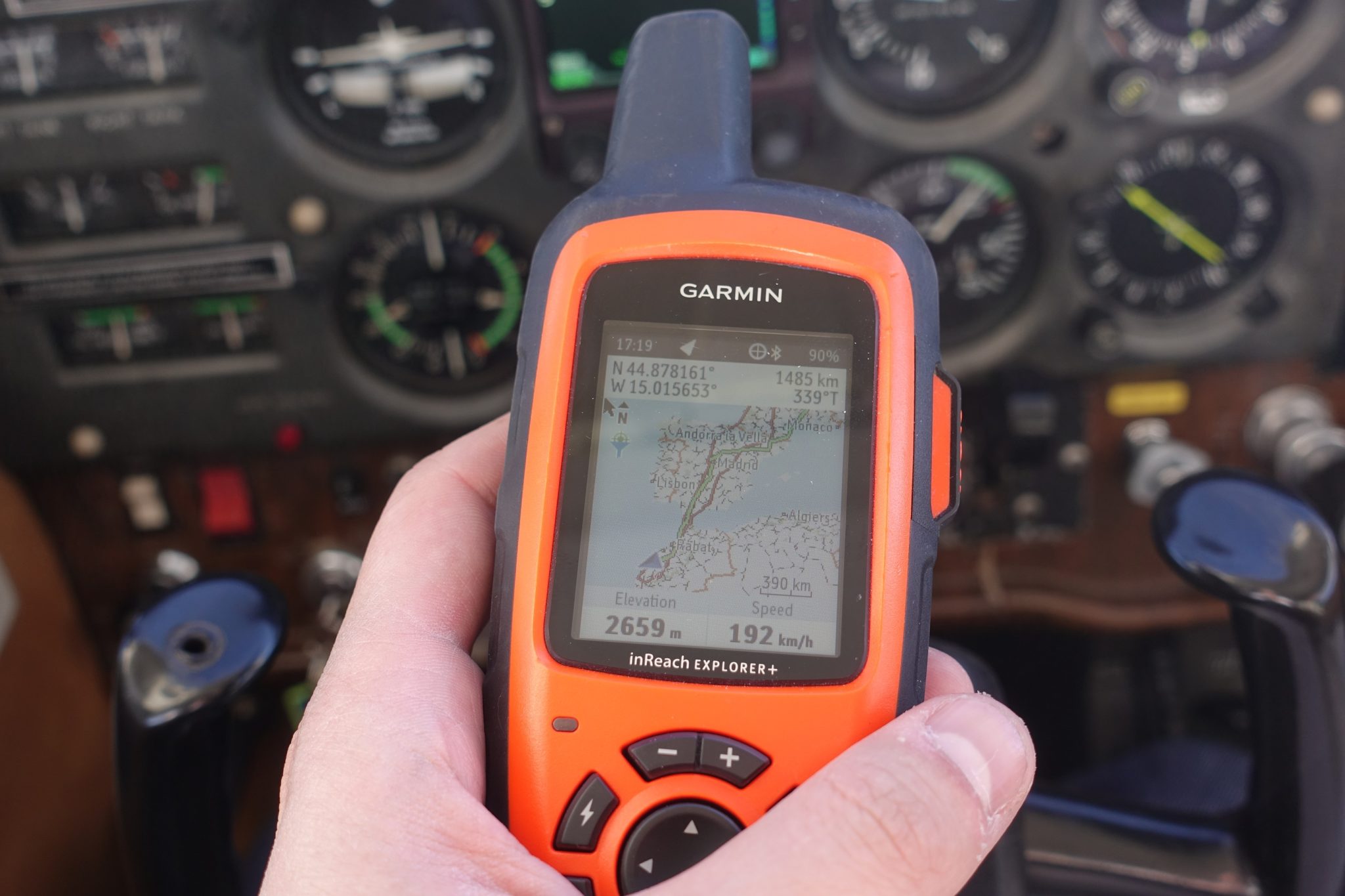 This helped others follow our trip and see that we arrived safely. We could also communicate by text message during the trip, when we were in the desert on camels, in flight, etc… And in case we had to do an emergency landing on land or water, without radar from the authorities, it is reassuring to know we have a SOS that works everywhere with precise GPS location and 2-way messaging with rescuers.
The inReach stayed on the dashboard to have a clear sky view (to get GPS and Iridium communication) most of the time. To send/receive messages, I use the smartphone which has an app to control the inReach.
I also bought the accessory carabinier clip. Before water overflights, I would clip the carabinier clip to my belt. In case of ditching, I would quickly attach the inReach to the clip to ensure it stays with me and not in the plane.
Backup GPS watch
Backup GPS watch
I use the Garmin D2 Charlie when flying. This is an aviation watch that has a database of all airports and a « nearest » feature. You can program your flight plan in Garmin Pilot and send it to the watch. I've done this for most flights, which ensured I had a good backup in case everything else failed and needed to follow my flight plan or needed to find the nearest airport.
I load the flight plan in the watch and put the « Nearest » page. This way, if I need to land ASAP, I just look at the watch for the nearest airport (has ICAO code, distance, ETE and track, with arrow pointing to airport).
This watch also has apps that you can find on the marketplace. I developed a few apps focusing on space (Solar System Live, SpaceX next launches, ISS location). If you have any idea for an aviation app, let me know.
Local internet 3G
Local internet 3G
Buy local simcard from Orange, it has the best cover. About 4 euros for a new simcard, and 1 euro per GB of data. I recommend to just put 5GB and not worry about it. I initially put 2 GB and some apps will drain that quicker than you'd hope, and you'll be stuck without internet or access to a recharge shop when you need it most.
I brought an extra phone to put the simcard in and share internet (wifi hotpost) with everyone in the trip.
Drone
Drone
Prohibited in Morocco. My drone (DJI Mavic Pro) was seized at the border and returned to me upon departure against a 20 euros storage fee. The agent and I actually went in the storage room to look for it, and I saw more than 100 drones there waiting for their owner's return! I had never seen so many drones.