Planning an airtrip to Morocco and Spain?
In this post, I share my airtrip experience from Paris to Essaouira and Marrakech in a Cessna 172 RG in May 2018. I share everything you need to know about VFR route planning, airport procedures, recommended material to bring along and some best practice when flying under VFR private general aviation rules in Spain and Morocco.
This was one of my most adventurous airtrips so far. Long-distance flights,  higher weather risk, unknown territory, controllers from another culture… It proved more challenging than usual, but was definitely manageable. Rigorous preparation and flexibility are the two factors that made this airtrip a success.
Context
Context
Everything started when a friend of mine, who like me is a bit of a crazy adventurer but not a pilot, planned to come to Europe for a 3-month break from work and proposed to take this opportunity to finally do an airtrip. It would have to be an awesome airtrip with remote locations and challenge!
It took us a few months to decide on the destinations and long hesitated between Croatia/Greece/Italy and Morocco/Canary islands. We finally decided to go to Marrakech and Essaouira in Morocco. We skipped Canary islands due to budget and time constraints. Departure would be from Paris due to aircraft availability at my flying club. 2 other friends tagged along so we were 4 in total. I was the only pilot. I hold a PPL and can fly only VFR day.
Overall impressions
Overall impressions
What a fantastic trip! The tourism value is obviously high, but going to these places by self-flying provides a great feeling of freedom and adventure. Since I hadn't flown in these countries before, going into the unknown feels more "risky" and as a result, provides high satisfaction when mission is accomplished.
The one thing missing from some of my previous airtrips is the simplicity. Flying VFR in most of Europe is easy because there are many small general aviation airfields that don't require handling, PPR, security control, police control, etc… This time, it was almost only big airports with a lot of time wasted on security and police procedures.
Also, we did not do islands this time, although it is an awesome way to enjoy VFR. But we did fly over Gibraltar and fly over water, which is enjoyable and similar to island flying.
To conclude, this was a different, more serious airtrip playing in the field of commercial aviation, and it was an invaluable and rewarding experience.
Planning design
Planning design
Our planning design strategy was to get to the furthest point as quickly as possible, and then build in buffer days in our way back . This would give us extra time to adapt planning in the last days should weather not play ball. There was a hard stop on day 14 where everyone flies back to their respective countries.
Plan:
Day 1: Paris – Biarritz – Madrid
Day 2: Madrid – Tanger – Essaouira
Day 4: Essaouira – Marrakech
Day 9: Marrakech – Tetouan – Granada
Day 11: Granada – Zaragossa – Toulouse
Day 13: Toulouse – Paris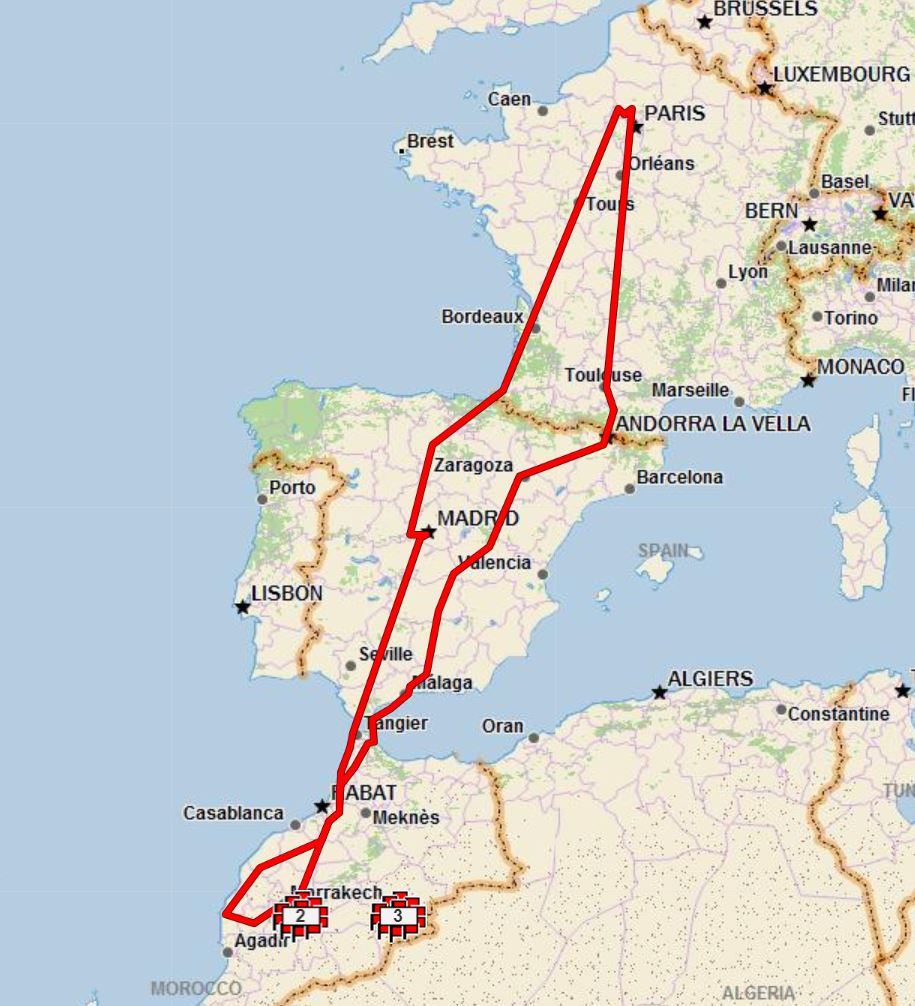 Actual route
Actual route
In reality, the way to Marrakech was mostly as planned (first leg deviated due to weather). On the way back, we ended up changing our plans to adapt to weather conditions and consumed a buffer day.
Actual:
Day 1: Paris – Perpignan (route south of Biarritz was very cloudy so avoided) – Madrid
Day 2: Madrid – Tanger – Essaouira
Day 4: Essaouira – Marrakech
Day 9: Marrakech – Rabat (weather to Rabat was poor and there was no time to arrive to Granada before sunset)
Day 10: Rabat – Granada
Day 11: Granada – Sabadell/Barcelona (this airport was planned initially as alternative and made the change easy)
Day 12: Sabadell – Toulouse
Day 13: Toulouse – Paris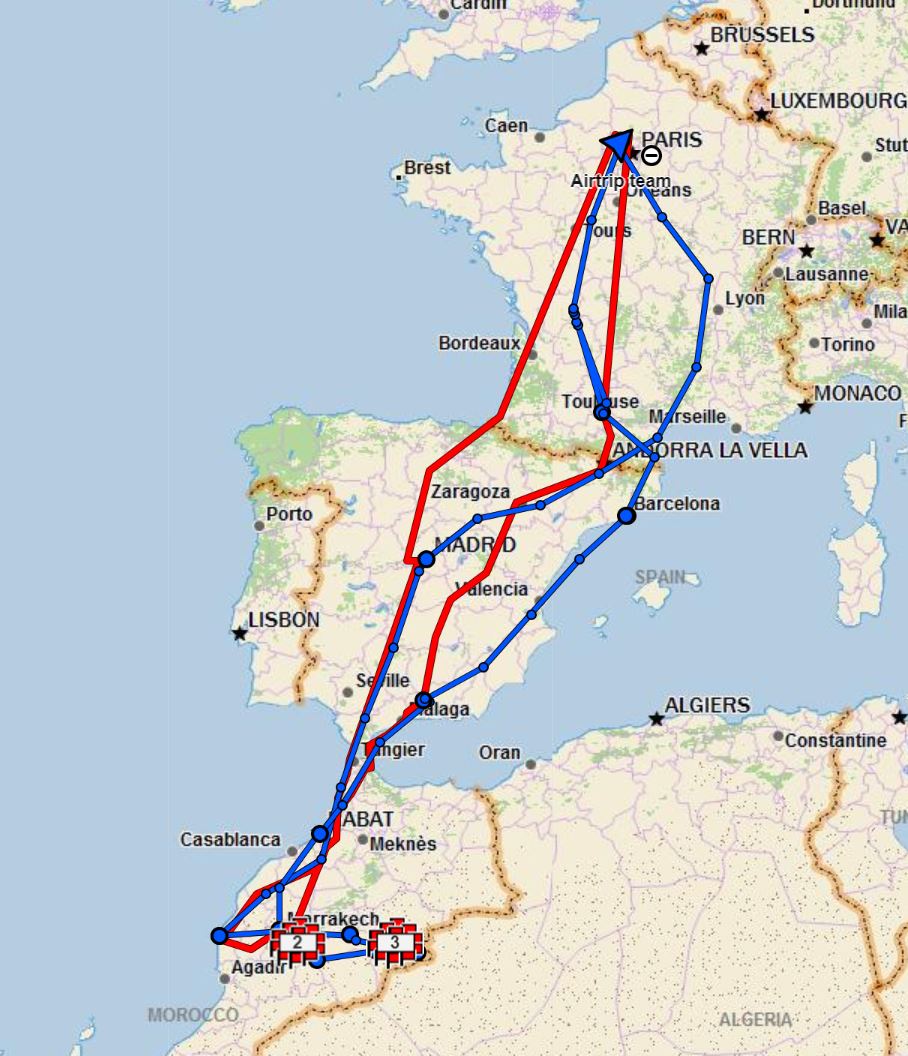 Route with ICAO codes.
Pontoise LFPT – Perpignan LFMP – Madrid LECU – Tanger GMTT – Essaouira GMMI – Marrakech GMMX – Rabat GMME – Granada LEGR – Sabadell LELL – Toulouse LFCL – Pontoise LFPT.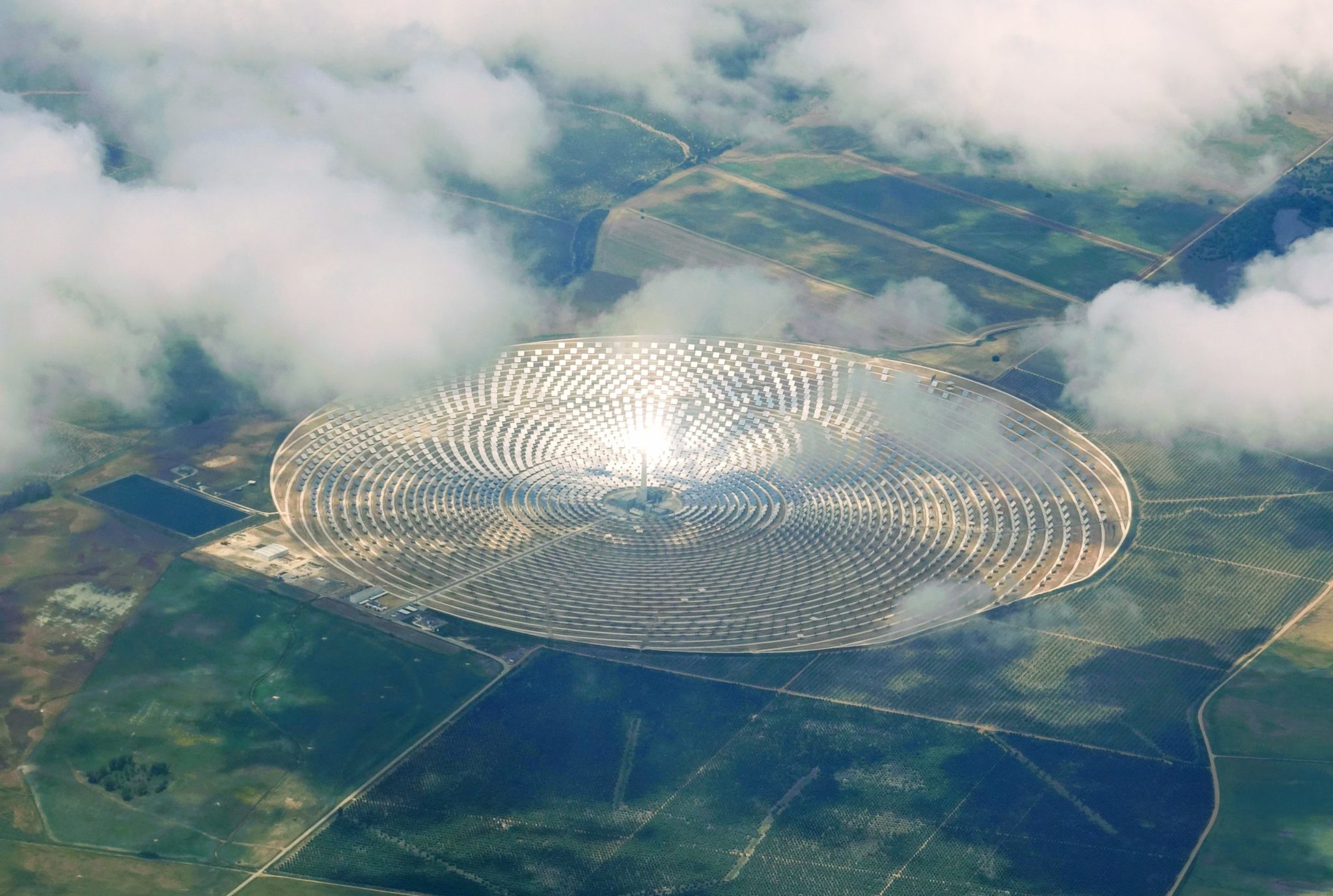 Aircraft
Aircraft
Cessna 172 RG was selected among other Cessnas as it seems to be the most efficient and cost-effective aircraft for travel, thanks to its ability to fly 3.5 hours + 1 hour reserve with passengers and 10kg luggage each. Also, it's considered a "complex aircraft" due to variable pitch and retractable landing gear, which gives a bit more experience.
List of material
List of material
Here is the list of material I prepared for the trip. I recommend to have these items ready if you fly to Spain/Morocco.
Navigation app
SkyDemon app. This specific app has been recommended to me by Adil, an instructor  from the Marrakech Royal Flying Club. The key advantage for Morocco is that it already has the mandatory VFR reporting points. I used this app on both a phone (held by suction cup on the windscreen so always in visual range) and a tablet (tied to my leg so only visible if I look down).
The phone always had the local map, while I alternated the tablet between regional map and nav log. This app has many advantages that clearly separates it from Air Nav Pro and Garmin Pilot, which I have used in the past. The cost for 1 month is about 15 euros. Flight plan filing package is about 20 euros for 20 flight plans.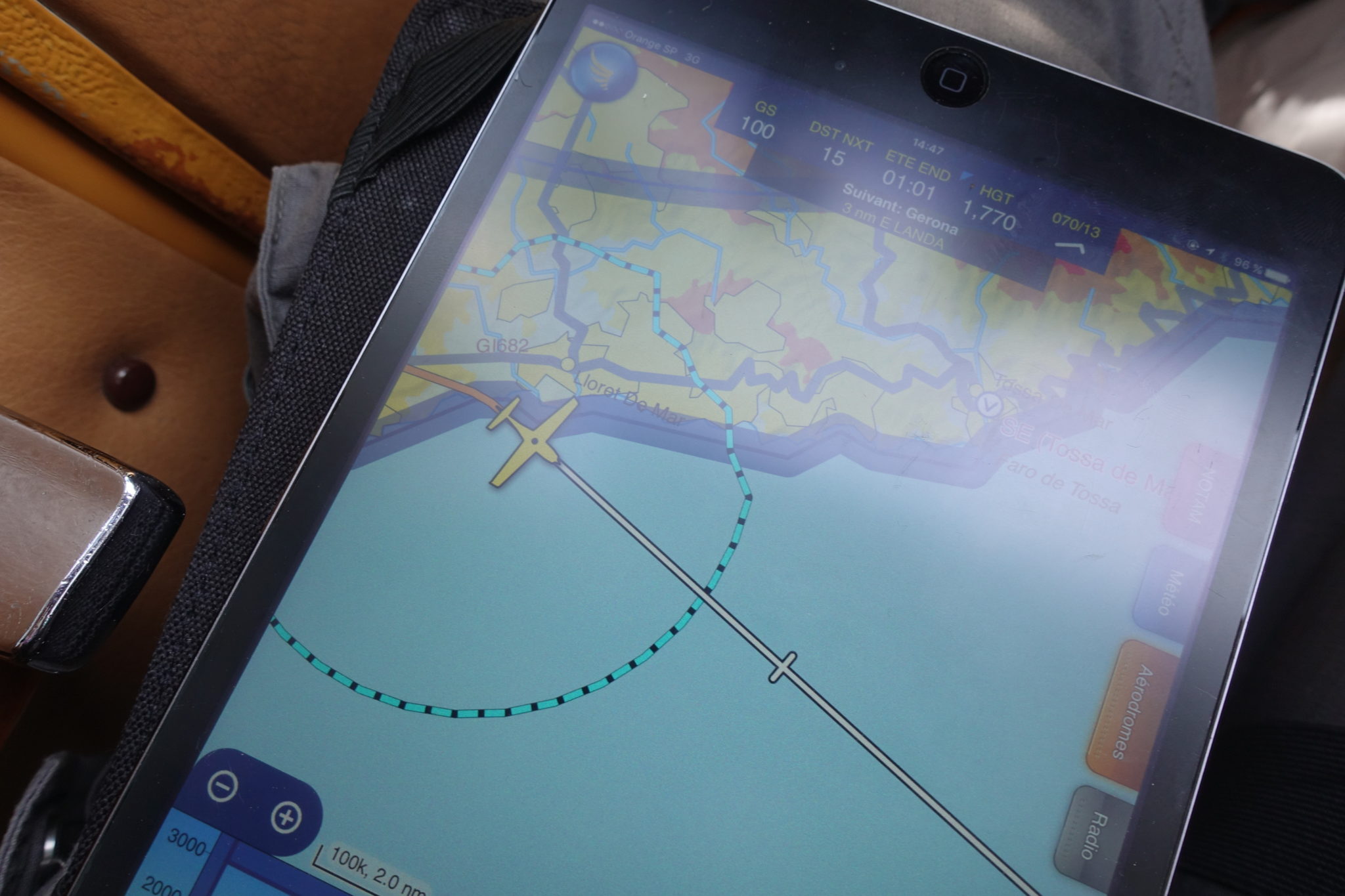 Tablet/phone apps
Use 2 devices. I use the iPad mini v3 and a Samsung S7 running android. The iPad tends to overheat when directly exposed to sunlight. This causes the iPad to completely stop functioning for a period of at least a dozen of minutes. The Samsung did not overheat. However, it did bug one time by exiting the app unexpectedly 2 times in a row. Otherwise super reliable.
It is helpful to have the same (or different) app(s) running on 2 different devices, both for redundancy purposes (should a device/app fail) and to use one device to check things (nav log, plates, airspaces, frequencies, different zoom, etc…) while keeping the other device for pure navigation).
Navigation map Morocco
Morocco VFR 500k map. This is available on Morocco SIA website (http://siamaroc.onda.ma/cartes_vfr.htm). There are 5 maps, each covering a section of the country.
Those maps have an old background with terrain, cities, rivers, etc.. And a recently added layer of aviation data like airports, VORs, NDBs and VFR waypoints. It's not very precise for pure VFR navigation as we know it (dead-reckoning, match ground features to map) but does the job of displaying the VFR points, which is the most important. You'll have to follow the routes published on these maps. I tried to get a direct near Rabat due to bad weather and this was rejected, probably because of the risk of overflying royal residences.
Morocco road map. I had one and this is probably helpful to better see where you fly. I actually didn't use it much. The Morocco VFR 500k + SkyDemon  where sufficient. It's useful as a backup in case you want more detail or if you lose your app capability.
Navigation map Spain
Spain AirMillion 500k. This is a good map for long-term flight (you need something more zoomed in for local approaches, but SkyDemon was sufficient). However, bring some adhesive tape as folding it several times was enough to cut it apart at folding lines.
Other navigation
Airport approach plates / documentation. I recommend to download the full country AIP (or at least selected airports) including these plates, and also print them in advance, for both target and diversion airports.
Formality documents
Prefill GENDECs. They are required at customs when entering/exiting countries for international flights.
Prefill police document "Fiche de police" for Morocco. Required at many airports (Tanger for internation arrival, Marrakech I think, Rabat at national arrival and international departure).
Safety
Yellow reflective vests, to be worn at least by the pilot at airports where you don't have handling. (Handling agent drives you around so no safety issue). Essaouira had only one aircraft: ours. So no safety risk either.
Lifevest, see section below
Satellite communicator, see section below
Additional GPS, see section below
Preparation and information sharing
Preparation and information sharing among crew
I created a Google Sheet to share information with the rest of the "crew" (non-pilot friends in my case). The Google Sheet would have the following tabs:
Technical Planning. Includes dates, departure and arrival airports, distance, flight time (best, expected, worst-case), fuel requirements (worst-case + safety), runway length and TKOF distance requirement based on temperature and pressure altitude, etc…
PPR. Includes a column per airport with data to be communicated to airport stakholders (handlers, airport official, etc..) with aircraft registration, owner, arriving from, departing to, arrival/departure dates and hours, pilot and passenger names and passport numbers, fuel requirements, etc… I would copy-paste the relevant column into emails that went to airports/handling companies/fuel companies.
Weight and balance. Includes classical weight and balance calculation under 3 person and 4 person scenario (had both cases). With balance graph.
Tourist Planning. Includes logistic details for each destination, such as hotels and others.
Tourist activities. Includes possible activities to do at destination.
I took care of all flying-related information and my passengers took care of the touristic/ground transport information.
Any change to this online document by any crew member is immediately apparent for all others, making communication and tracking very easy.
Airport information
Airport information
As trip preparation progressed and locations went from idea to certainty, I started to contact the airports for the following data:
Do I need a PPR for landing and parking? Or is a flight plan enough?
Is there fuel and what is the approx price? What are the accepted payment methods? Opening times?
Is handling required? If so, get quotes from handling agents and select one.
Some information is already in the AIP, but contacting a local person feels safer.
Morocco
In Morocco, for VFR general aviation flights, no PPR is required.
Even Marrakech, for which AIP states that the airport commander needs to sign an authorization, does not require any authorization. (this is not true for IFR/commercial). Instead, just contract a handling agent. They will take care of everything and I think it's really necessary for Marrakech.
Tanger (GMTT): no PPR, Avgas OK, flight plan needed, no handling needed. (A policeman will show up at the aircraft just after you park and take you to customs).
Essaouira (GMMI): no PPR, Avgas OK, flight plan needed, no handling needed. Very happy to see people as usually there as very few flights per day. You can go to the control tower and say hi – the control was happy to see us.
Marrakech (GMMX): no PPR, Avgas OK, flight plan needed, handling needed. I used Swissport and it was fantastic handling. Everything was great and flexible. Fully recommend.
Rabat (GMMI): no PPR (but the agent at departure airport Marrakech called Rabat to check if there was any royal activity – it was fine for today, otherwise pick another airport), Avgas OK, flight plan needed, handling preferred but we did without. A security agent was affected to us to go through customs and border control, but it was out of ordinary for them that we didn't have a handling agent. The military will want to brief you on departure route for VFR. They will just tell you what is on the map, but it has to be done. I didn't have time to do it on the first attempt to depart and this was a good enough reason to reject flight authorization upon first contact with tower to request taxi.
Spain
In Spain, for VFR general aviation flights, just flight plan filing is needed 1 hour before take-off (could be less). Handling only required if exiting Schengen or entering from outside Schengen.
Madrid Cuatro Vientos (LECU): No PPR, Avgas OK, flight plan needed, handling not required/not available. For Schengen entry/exit, just file your flight plan more than 24 hours in advance and give a phone call to the airport to check customs/border control will be available at this time. Very important: the only fuel company will not serve Avgas unless you give them an intracommunity VAT number. If you operate a private flight, you don't have a company or a VAT number. Pick any other company (from relatives, or your airclub or rental company) and give them this number. It took me 30 minutes to figure it out.
Granada (LEGR): No PPR, Avgas OK, flight plan needed, handling not required. We took handling because we entered Schengen from Morocco. We took Andalucia Aviation Services and it was great.
Zaragossa (LEZG): PPR required (but no problem), Avgas OK, flight plan needed, handling required. Did not land there after all.
Sabadell (LELL): PPR not required, Avgas OK, flight plan needed, handling not required/not available. To get to Barcelona, take a cab to the Sabadell Sud train station (<8 euros). There, take a 25-min train to city center (<5 euros).
France
In France, VFR is easier, no flight plan needed (unless international flight or overwater or night flight). Just state your destination to tower on first contact.
VFR Navigation
VFR Navigation
It is required by Moroccan authorities to follow published VFR routes. These routes are available in the VFR 500k map published on Morocco's SIA website.
I think it is challenging to do VFR in Morocco with less than perfect weather because you will have to fly on top of the clouds and will not have access to ground features. You can also fly below clouds, but flying 3 hours with turbulence is not the most comfortable way to travel. I ended up flying above the clouds most of the time. The risk is that by following the VFR routes, Morocco's authorities impose you to not deviate too much and don't give you a lot of options to stay clear of weather.
At some point, flying from Marrakech to Rabat, there was some difficult weather that I would qualify as marginal VFR. I would have preferred to deviate from the route significantly to avoid bad weather, but ATC said there was no way to deviate, either land at the nearer airfield in Casablanca or follow the assigned route. I think the problem is that they don't have a radar in most areas, that's why they ask for estimates of the next 3-5 reporting points and destination just after take-off, and ask you to report at next point all the time. This can make for tricky flying if weather isn't perfect on the whole route.
Weather
Weather
I used 
windy.com
. This website is really good as it presents a clear view of the weather for the next hours and days, for many cloud features (high, mid, low, cloud base, cloud top, etc…) and also METAR, TAF and meteorological graph. That was super helpful. One problem is that 4 different weather models are presented (you can switch model at any given time), and results can vary significantly from no clouds to very clouded. Which model to believe? What will be the actual cloud base? Can I fly or not? That was our struggle!
Looking at METAR and TAF is not enough as airports are sparsely distributed and don't give a full view on weather along the way.
In the end, our strategy was to look 24 hours before to decide on departure time for next day. On the morning of the flight, look again to check how predictions changes and see if flyable.
Flight plan
Flight plan
Use 
eurofpl.eu
. Flight plan addressing in Europe (France and Spain) was successfully done by the app. It failed a couple times in Morocco, because the route I selected was rejected. Using SkyDemon, I did not find a way to read messages from the aviation authorities regarding my flight plan. As a result, I would recommend to use instead 
eurofpl.eu
. This is more cumbersome as you have to use a separate website, but at least you know if a flight plan is rejected. I believe 
eurofpl.eu
 is able to link to SkyDemon or other apps to avoid the trouble of inputting data two times, but I didn't find time to check.
I felt that calling the departure tower after submitting a flight plan was the best thing to do in absence of a feedback. A few times, my flight plan was rejected, I didn't know about it until I showed up at the airport and asked someone at the C office (or even once after startup). I figured that it was simply best to file a paper flight plan locally just before takeoff (30 minutes before was OK even though 1 hour is usually required).
For an international flight from another country into Morocco, they ask to submit a flight plan 24-hours before. I initially filed on Olivia, the French official flight plan website, a few days in advance. It was immediately rejected. I then called the French flight plan service at +33 1 56 301 301. The person told me it's not possible to submit a VFR FPLN more than 24 hours in advance. So how to do it 24 hours in advance to respect Morocco's requirement? You can submit with euroflp or your favorite app. Then call the departure tower to check that it's accepted. If you have to delay the flight plan or cancel, you can use DLY or CHG features on eurofpl. But if you do need to cancel and file a new flight plan later for any reason, the Moroccan authorities were informed of your arrival with the initial flight plan, so there shouldn't be any problem if you final flight plan has been submitted less than 24 hours prior.
Water overfly
Water overfly
I purchased a Plastimo Pilot 165 lifejacket with manual trigger only (not automatic to avoid inflation while in the plane when you open the windows to equalize pressure and allow door opening) and crutch strap. I added the W3 Compact flashlight that you can stick on the buccal inflator. This way, the lifevest meets regulations. Total cost 80 euros. You wear it the whole flight if over water is planned. As a pilot, you won't have time to think about wearing the lifevest and if anything were to happen, it's a major safety improvement to already be wearing it.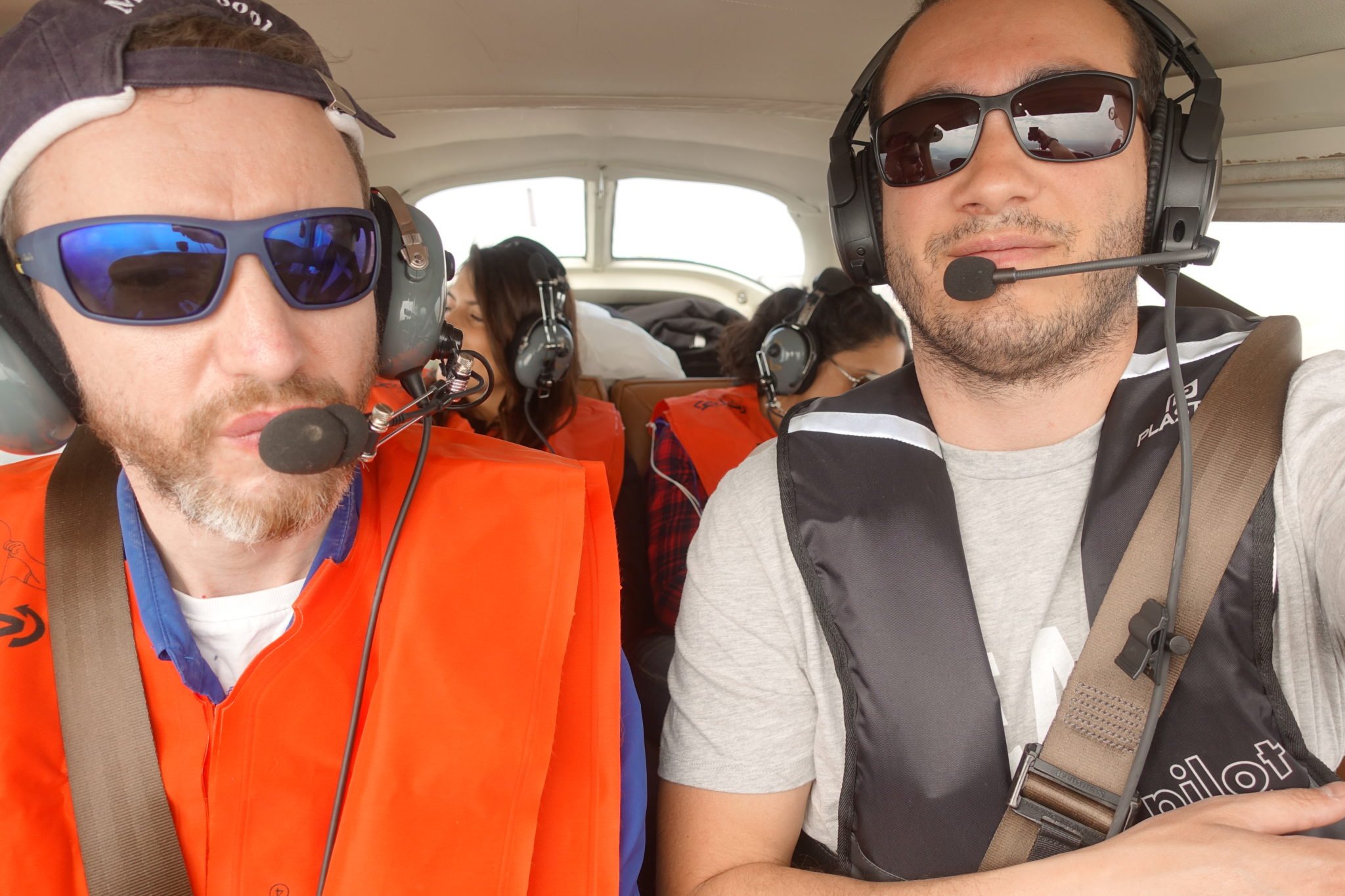 My passengers were wearing standard airline-style lifevests. First water overflight, I asked them to wear them shortly before arriving over water. It actually took them at least 10 minutes to open them and figure out how to put them on. Let me tell you that not wearing lifevests before over water flight is a big risk if something happens. Surely, with the stress, no passenger will be able to correctly wear the lifevests by the time you have to ditch.
On following flight, I did a proper briefing on how to wear the lifevest, how the whistle, light and buccal inflation work. And we'd wear them before take-off for every overwater flight.
The advantage of the Plastimo (or any other brand) lifevest is that it does not itch the neck over time. Also, using it doesn't require reconditioning (necessary for airline-style, at 25 euros each). The Plastimo cost only 80 euros when equipped with manuel, croutch strap and light, which was the cheapest lifejacket I could find.
Headset
Headset
I recently purchased the Bose headset with bluetooth (fortunately the price internationally is lower than in Europe) to replace my old entry-level headset I got during my initial training years ago. I must say it is an absolute advantage to have it. Noise cancellation is effective. It's not pure silence though, you can definitely hear some background noise as well as the engine running, but everything is much quieter than with ANR inactive, so communications and music stand out.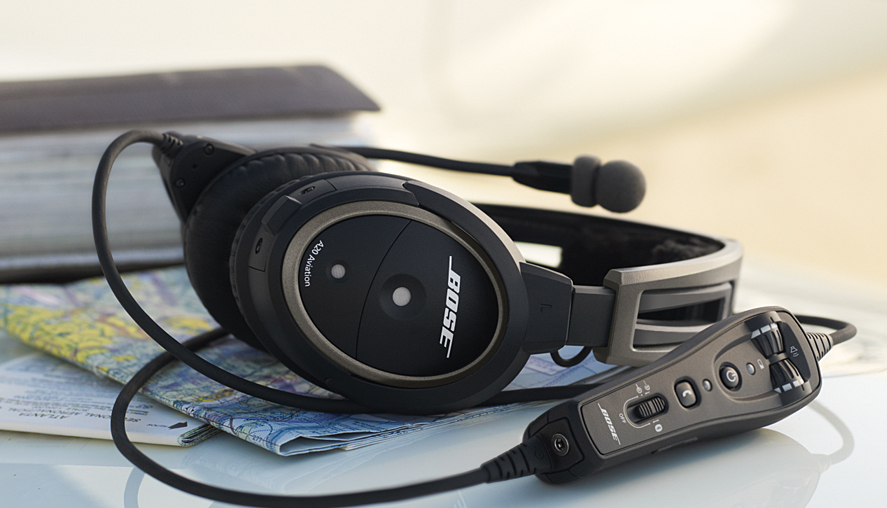 2 main advantages above and beyond ANR:
First, you can now listen to music in flight. This makes the experience incredibly more enjoyable.
Second, you can make phone calls. This happened when talking to ground operations in Perpignan regarding the landing fee. I asked to call on phone rather than use battery for radio, and didn't have to do anything to continue talking to them beside punching the numbers on my phone. In another instance, the handling agent from Granada called me 20 minutes before landing in Rabat. I quickly picked up and said that I was in flight and was still planning on arriving to Granada but got delayed. This can be a lifesaver in case of communication failure. For instance, Sabadell (Barcelona) airport lets you enter its airspace and land in case of radio communication by using a specific route to the airport and looking at tower lights. Also, they give a phone number to use specifically for this purpose. Having the capability to make a phone call to the tower with the headset is a safety feature.
I experienced an issue with the Bose headset. At some point during the flight, I started to hear weird noises when I was transmitting on COM 1. I finally figured out that if speaker is on and ANR is on, a weird noise will appear in the ANR headset (only on COM 1 – this didn't' happen on COM 2).
Original battery lasted 28 hours, not 40 as advertised. I have to check with a legit battery (Duracell/Energizer).
Satellite communicator
Satellite communicator
I use the Garmin inReach satellite communicator to track the flight, send the track by satellite to an online map (for friends/family to follow), have a 2-way text messaging capability with the ground (friends/family/logistics) and a SOS feature. It can even post text messages on facebook or twitter!
This works anywhere on earth. The cost is 15 euros per month for 10 messages. 30 euros per month for 40 messages and 10-minute tracking. This fee is monthly for 12 months. SOS always included.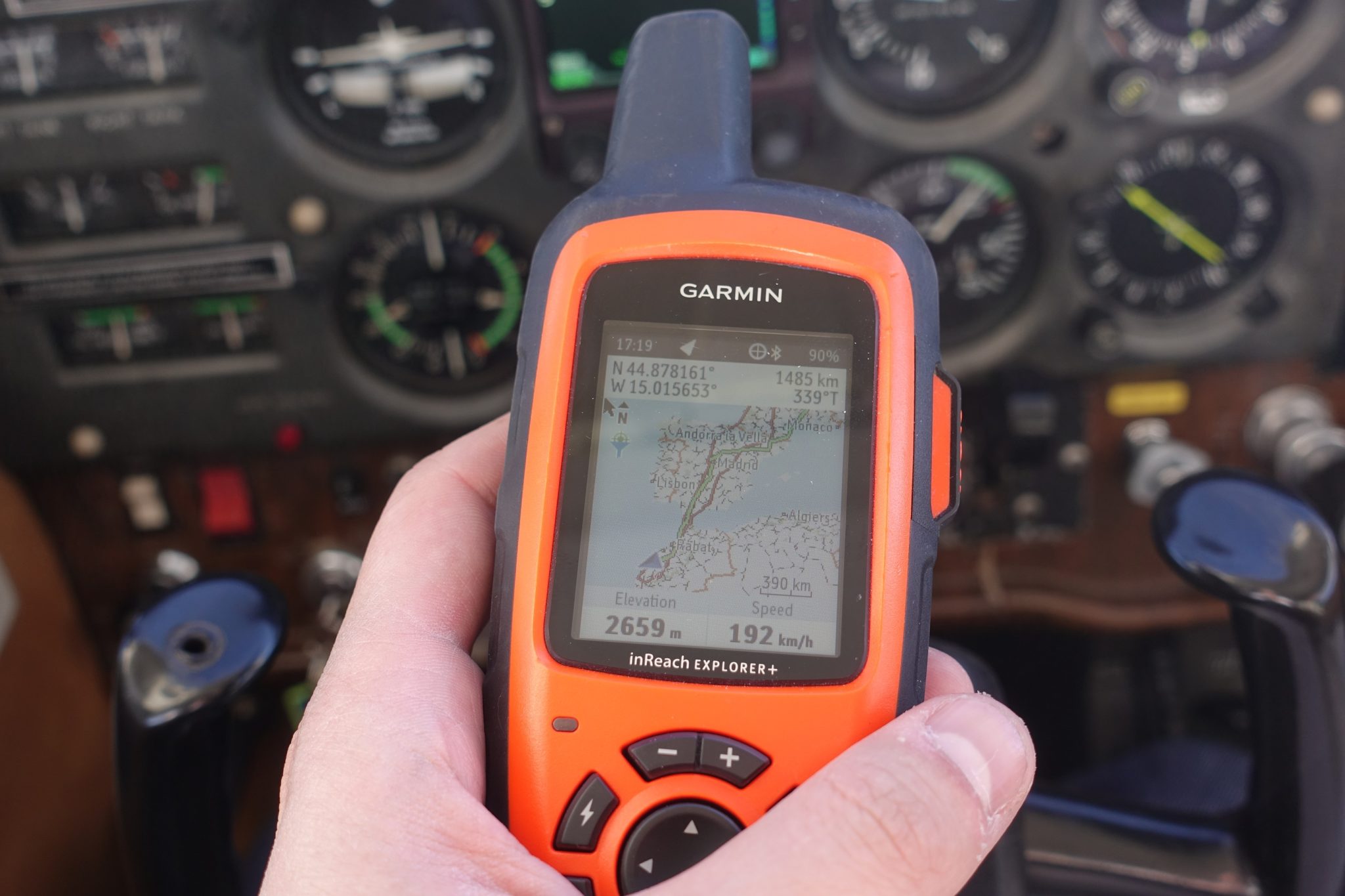 This helped others follow our trip and see that we arrived safely. We could also communicate by text message during the trip, when we were in the desert on camels, in flight, etc… And in case we had to do an emergency landing on land or water, without radar from the authorities, it is reassuring to know we have a SOS that works everywhere with precise GPS location and 2-way messaging with rescuers.
The inReach stayed on the dashboard to have a clear sky view (to get GPS and Iridium communication) most of the time. To send/receive messages, I use the smartphone which has an app to control the inReach.
I also bought the accessory carabinier clip. Before water overflights, I would clip the carabinier clip to my belt. In case of ditching, I would quickly attach the inReach to the clip to ensure it stays with me and not in the plane.
Backup GPS watch
Backup GPS watch
I use the Garmin D2 Charlie when flying. This is an aviation watch that has a database of all airports and a "nearest" feature. You can program your flight plan in Garmin Pilot and send it to the watch. I've done this for most flights, which ensured I had a good backup in case everything else failed and needed to follow my flight plan or needed to find the nearest airport.
I load the flight plan in the watch and put the "Nearest" page. This way, if I need to land ASAP, I just look at the watch for the nearest airport (has ICAO code, distance, ETE and track, with arrow pointing to airport).
This watch also has apps that you can find on the marketplace. I developed a few apps focusing on space (Solar System Live, SpaceX next launches, ISS location). If you have any idea for an aviation app, let me know.
Local internet 3G
Local internet 3G
Buy local simcard from Orange, it has the best cover. About 4 euros for a new simcard, and 1 euro per GB of data. I recommend to just put 5GB and not worry about it. I initially put 2 GB and some apps will drain that quicker than you'd hope, and you'll be stuck without internet or access to a recharge shop when you need it most.
I brought an extra phone to put the simcard in and share internet (wifi hotpost) with everyone in the trip.
Drone
Drone
Prohibited in Morocco. My drone (DJI Mavic Pro) was seized at the border and returned to me upon departure against a 20 euros storage fee. The agent and I actually went in the storage room to look for it, and I saw more than 100 drones there waiting for their owner's return! I had never seen so many drones.